Promoting Impact Technology Tanzania | Spotlight on BelavendorTZ
Limited access to sanitary pads is one of the challenges facing a number of girls in government schools. An education about Menstrual Hygiene is important to not only young girls but the society as whole. This week we are looking at an initiative called Be A Lady Tanzania, the initiative advocates about women's health through use of technology. The initiative has an automated sanitary dispenser/ ATM machine called Bela Vendor as part of the solution to menstrual health management.
Lulu Ameir who is not only an innovator but also a founder of the initiative had an interview with Tech & Media Convergency (TMC) to speak about the product and how it impacts the lives of young girls around Tanzania through their services. Be a lady initiative began in 2017 with an aim of increasing accessibility of the sanitary pads and affordability that pose challenges to female students. They are located at Mikocheni B in Dar es Salaam.
The Inspiration Behind
Lulu says, "I used to work as an intern in a corporate company back in the days, I once had this bad experience when I needed sanitary pads and asked around if anyone had any but in vain, I asked around and still no one could help me, so what I ended up doing was use tissues for the situation I faced" she further adds, "I was so embarrassed, but the situation motivated me to spike an idea that something had so be done for I was sure I was not the only lady who had faced such a challenge"
Thus, the technological Innovation of the Bela Vendor Sanitary dispenser. She adds, "With the existence of Bela Vendor sanitary dispenser, I believe it will not only help young girls at school to no longer miss classes but also to take head of their menstrual hygiene so as to avoid risks associated to it such as getting infections."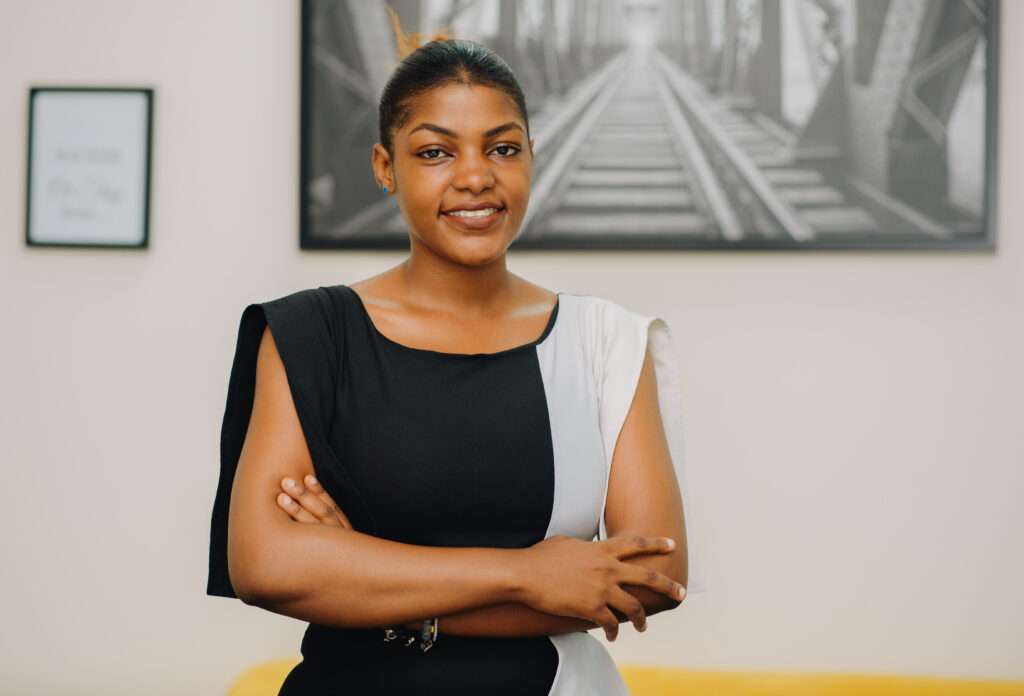 Tackling the Problem
The "Be A Lady" initiative is part of solving the existing challenges in relation to the menstrual hygiene and health as well as increasing the conversation around it to improve the lives of the girl child.
Lack of enough income form the parents to support their children in buying sanitary pads which causes 6 girls out 10 to miss school in Tanzania. Be A Lady initiative is determined to solve that problem by increasing the supply of sanitary pads vendor machine to different schools in Tanzania at an affordable price.
Limited research done when it comes to accessibility of Sanitary Pads, since there is no reliable detailed information about the usage of sanitary pads in schools, very few researches have been done to address the challenges these young girls are facing especially in rural areas and the solutions applied so far. There is also no proper data or information about the vendors of the sanitary pads' providers making it difficult to trace where they are located and to recognize initiatives such as these to the public.
Bela Vender is not only a product but part of a conversation and being part of informed decision in regards to the important conversation of menstrual hygiene. And thus changing the lifestyles of young girls by not only giving them the access to affordable sanitary pads but also to educate them on their menstrual health so that they can also spread awareness to other younger girls and their society as well.
How the Services Work
Bela Vendor Sanitary dispenser functions as an ATM machine, for a student one has to have 200 shillings or 500 shillings to get access to the pads. What one does is inserting a coin be it 200 or 500 Shillings to the machine and the sanitary pad will be provided for you. This machine has been installed in the washrooms of different secondary schools in Dar es Salaam such as Jangwani, Tambaza, Chang'ombe, Mikocheni and Tungi.
They had an opportunity to train the students on how to use the Bela Vendor machine and conducted seminars in schools that educated students about Menstrual Hygiene Management, this led to the spread of awareness and formation of clubs in school that kept advocating on women's health.
"Our target are girls and women between the age of 12 to 45, but currently we are more into secondary students who have a high risk of missing school and risking their health, for four years now we have made an increase in the visibility of our Bela Vendor machine to the public." Says Lulu
When it comes to the means used to reach their targeted customers, Lulu shared with us that it is through social media platforms such as Facebook, Instagram, WhatsApp they run a campaign that advocates on the wellbeing of a woman in her menstrual cycle, the campaign also spreads awareness to the online community as well as the offline community. They do conduct trainings and seminars in secondary schools and universities as well.
The Eco-System Positioning
Lulu says "The only similar innovation that we have heard of is Chausiku, I can proudly say that we differentiate ourselves in the way our product functions, our Bela Vendor machines are in two types, we have one that works manually and the other one automatically."
"Through technology we provide data of the progress of our project, the machines manufactured so far, the supply of the sanitary pads vendor machine and what needs to be enhanced/maximized in our provided services the information is used to our stakeholders as well as investors." She adds.
Achievement and the Covid-19 Impact
Reaching more than 1000 users is their biggest accomplishment, other accomplishments were conducting 12 user case studies, participating in Data for local Impact Innovation challenge in 2017were they won the grant of 25,000 USD Dollars as well as receiving mentorship. Getting demands for sanitary pads vendor machines from regions like, Kigoma, Kagera, Morogoro and the island of Zanzibar, this truly inspired and encouraged them to keep working hard and meet this demand for lives of young girls were being transformed.
The Belavendor team received recognition and support for their hard work from the US Embassy in Tanzania. They had an opportunity to work in a project called Sauti Ya Binti a program funded by the US Embassy that aimed at providing education of Menstrual Hygiene Management and installation of Bela Vendor machines in secondary schools.
The pandemic affected the Initiative negatively in the way they conduct their services. Schools were closed and gatherings were restricted, this it limited the trainings that were to be done in the secondary schools, also the use of the vendor machine decreased greatly in number
The Next Step
"Our dream is to one day be the best, leading sanitary pads suppliers in the country and East Africa, to keep transforming the lifestyles of young girls and women by attending to the four Sustainable development goals that are SDG 3 Good Health and Well-being, SDG 4 Quality Education, SDG 5 Gender Equality and SDG 6 Clean Water and Sanitation.
"We also looking forward to securing investors, partnering with governments as well as the local media by doing so will be able to reach a vast number of people at once also with financial aid will be able to not only meet the demands of secondary students in Dar es Salaam but also that of other regions"
Final Thoughts
Looking at the 21st century technological transformations, there has been a habit of lagging off when it comes to technological investments in the health sector. There are few #HealthTech innovators, but hopefully with the increase of health innovators it will help in attracting a number of investors in the #HealthTech innovations.
For further details about Belavendor visit Tech & Media Convergency (TMC) you tube channel, like, share and subscribe for more insightful stories, one can also access the online conversation about Belavendor across all social media platforms using the hashtag #ImpactTechTZ
To read more about our reports featuring Startups in Tanzania https://bit.ly/ImpactTechTZ2021-Report