Introducing CSA – TMC's Revolutionary Digital Platform for Statutory Compliance & Technology Needs in Tanzania
Dar es Salaam, 7th of June 2023 – Tech &Media Convergency (TMC) is thrilled to unveil our latest digital innovation, the Compliance System Audit (CSA). CSA is a Digital Platform (https://csa.co.tz/) that provides Comprehensive Information on starting and complying with Statutory Regulations for all kinds of entities such as NGOs, Startups, Micro, Small and Medium-sized Enterprises (MSMEs) and other entities along with Technological needs and Security. After an intensive 10-month period of meticulous research of the legal, IT, and research team at TMC – we are proud to have poured our passion, exceptional expertise, and state-of-the-art technology into developing a revolutionary solution that will completely redefine how entities engage and interact in/with the digital world.
Key Features of CSA Digital Solution
Our Digital Solution offers four core services that cater to the diverse needs of entities in Tanzania as listed below;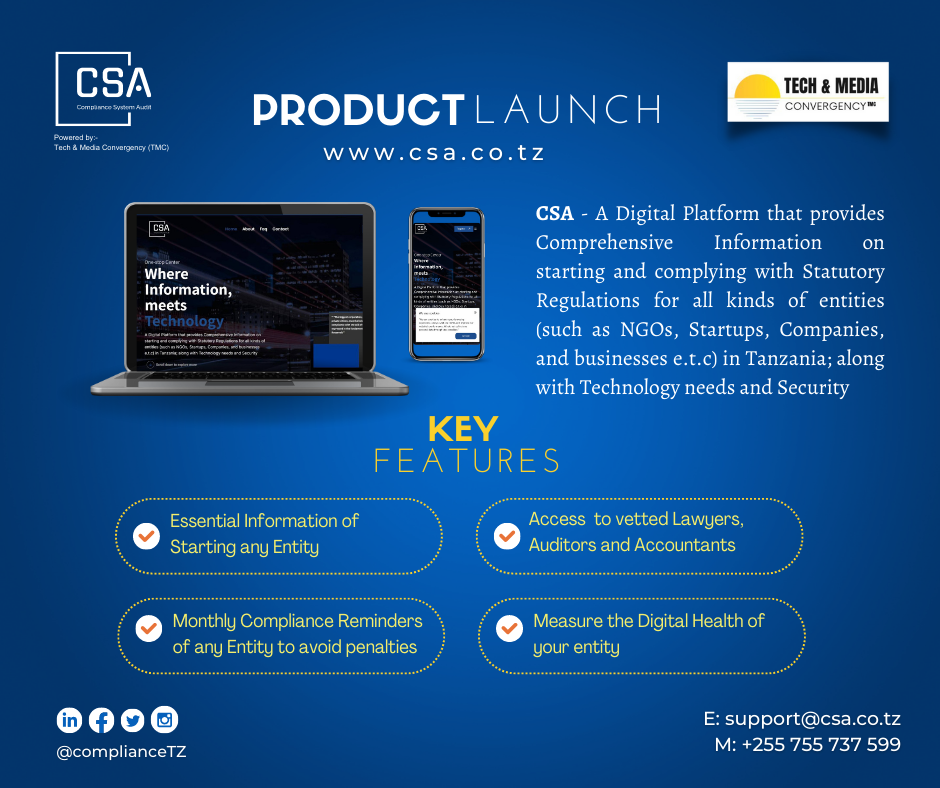 Information Stop (IS) – With this service, you access essential details required to establish various types of entities across different sectors such as healthcare, education, agriculture, entertainment, media, and more. Our platform provides comprehensive information, guiding entities through the process of starting and complying with statutory regulations.

Compliance Reminders (CR) – This service is designed for entities to do away to unnecessary penalties and compliance headaches. Our monthly reminder service ensures that entities stay on top of all their statutory obligations. We cover a wide range of statutory bodies and regulatory authorities, such as the Tanzania Revenue Authority (TRA), the Tanzania Communications Regulatory Authority (TCRA), Land Transport Regulatory Authority (LATRA), the Copyright Society of Tanzania (COSOTA), Tanzania Bureau of Standards (TBS), Occupational Safety and Health Authority (OSHA), and many more.

Experts Connect – Through CSA, entities can connect with top-notch service providers in the fields of Legal, Audit, Accounting and ICT. Entities will enjoy a hassle-free experience during the registration and compliance process by using our vetted experts. We have partnered with trusted experts who are well-versed in the requirements set by various statutory institutions.

Technology Health Index (THI) – Benchmark your entity's technology infrastructure against industry standards and best practices. CSA provides an extensive review of digital systems, security measures, procedures, and step-by-step analytical recommendations for improvement. THI ensures that the entity stays ahead of the curve with well-optimized technology. The test and results are free with an added value of paid comprehensive analysis covering over 60 well thought questions used to identify technological gaps and strengths of an entity.
Empowering Startups, NGOs, SMEs, and MSMEs
CSA Digital Solution is designed to empower entities of all types, including NGOs, startups, companies, and businesses, with the necessary tools and resources to navigate the complex landscape of statutory regulations in Tanzania. We understand the challenges faced by entities in meeting compliance requirements and addressing their technology needs. With our platform, we aim to simplify these processes and foster growth and success.
A Vetting Process You Can Trust
The CSA Digital Solution has undergone a rigorous vetting process. Aside from the compendium of the statutory information from the research team, TMC has visited/communicated with 89% of respective statutory institutions. We extend our sincere gratitude to all Expert Contributors from the ecosystem and offer special thanks to the Tanzania Communications Regulatory Authority (TCRA) and the Business Registrations and Licensing Agency (BRELA) for extensive dedicated feedback on the product. Most importantly it has been an honor to engage and get extensive feedback and support from the Ministry of Information, Communication, and Information Technology – we are grateful for their readiness to support since the initial stage and their valuable inputs in the vetting of the final product.
We Welcome Feedback
As we introduce this new innovation, we acknowledge that there is always room for growth and improvement. We welcome your recommendations and suggestions to enhance our platform further. Your feedback is crucial to us as we strive to provide the most effective and user-friendly solution for statutory compliance and technology needs in Tanzania. Together, we can shape the future of digital innovation in the country in this fourth industrial revolution.
Join the Digital Revolution in Statutory Compliance and Technology
We invite entities across Tanzania to join us in this digital revolution in statutory compliance and technology needs. Experience the power of our Digital Solutions platform and simplify your journey toward compliance and technological excellence. To learn more about our platform and how it can benefit your entity, visit the digital solution at csa.co.tz, get access to our resources about the CSA solution or contact our dedicated team at support@csa.co.tz. We are excited to support entities' growth and success in navigating the complex landscape of statutory regulations in Tanzania.
About Tech and Media Convergency (TMC)
Tech & Media Convergency (TMC) is a dynamic and multidisciplinary ICT company that specializes in utilizing technological innovations and applications to provide impactful digital solutions setting itself up as an advocate for the "Digital Economy and Digital Transformation". For more information on Tech & Media Convergency (TMC) please visit us at https://tmc.co.tz/
On behalf of the Directors,
Asha D. Abinallah
Chief Executive Officer
7th June 2023