A deep dive on OGBV and GBV with Journalists in Tanzania
Tech & Media Convergency (TMC), through the Women at Web program, promotes digital inclusion while creating, building, and refining an understanding of the right digital skill set and online etiquette which is important to their digital navigation so as to position both females and males online in a way that could offer opportunities, knowledge access as well as personal and business development.
In 2022, DW Akademie commissioned a comparative study to examine media coverage of cases of
online violence against women and harassment of women in Kenya, Tanzania, Uganda, and
Rwanda. The aim of the study was to find out how traditional media report on these cases.
Recommendations for journalistic training, as well as advocacy work, were derived from the results,
which formed the basis for interventions that will strengthen women's information, communication, and participation needs. From this study rose a need to directly work with journalists through a capacity program to culminate the 16 days of activism that occurs every year.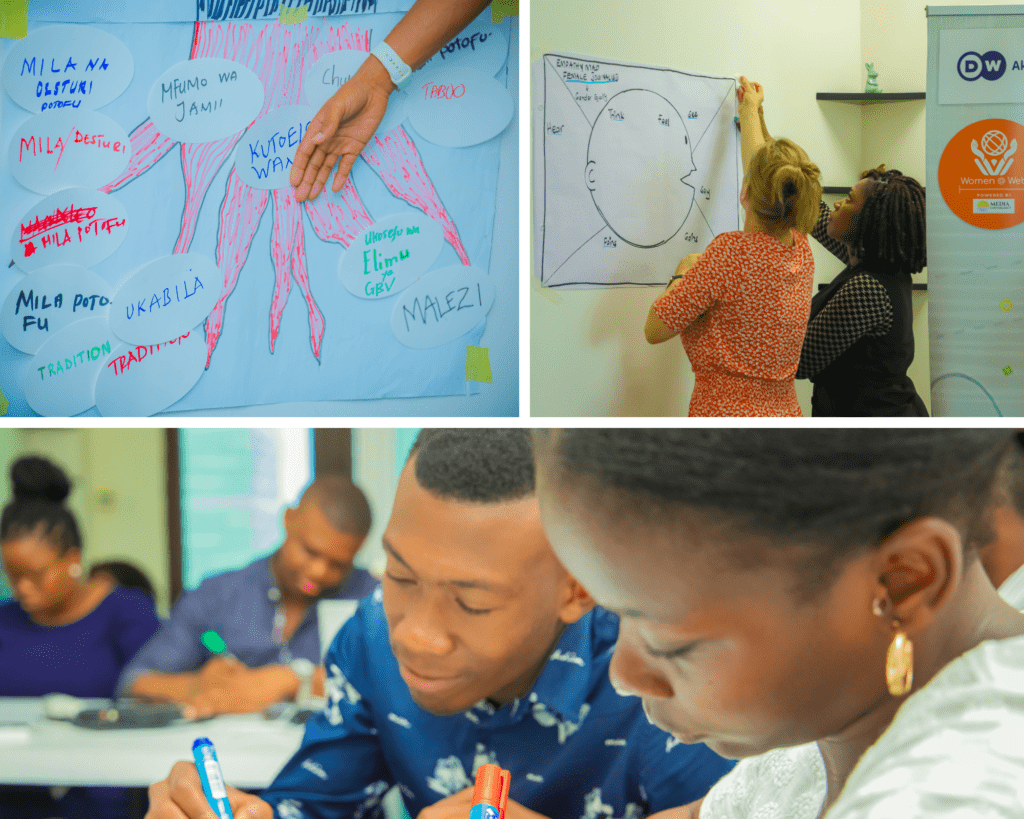 Pictures were taken during one of the days in the 6 days of intense training in partnership with DW Akademie and the German Embassy, at Tech & Media Convergency (TMC), in December 2023
The overall goal of the capacity building on Gender-based Violence (GBV) and Online Gender-based Violence (OGBV) is to enable journalists, to recognize media's influence on how audiences interpret and
respond to media narratives and how they shape the community's social and gender norms. The
training will further equip journalists with the right mindset and motivation that will bring about
equitable and measurable changes in the media in Tanzania.
During the 6-Days, a total of 15 journalists have had an understanding of the following thematic areas;
Identifying key terminologies which are Gender-Based Violence and Online Violence against women, by classifying different forms of GBV and OVAW these forms are Sexual harassment, Sexual Abuse, Physical Violence, psychological violence, trolling, doxing, cyberstalking and cyberbullying.
Reporting on OVAW using the System Thinking approach during these sessions journalists had the opportunity to identify how a journalist writes a balanced story, first they need to understand the event, two is understanding the trends or pattern, in this area, a journalist walks through their story to find out whether it is an issue that has been happening over and over again, three is a journalist looks at how their system is built up, whether there is accountability in addressing cases of stories of Gender Based Violence and Online Violence against Women and what are the laws governing such case and four is Identifying the mental models, these are the root causes associated with successes or challenges that we have today. These mental models are the ones that shape our mindset.
Agenda setting, journalists identified the business transpiring in the newsroom, and the types of bias a video was then displayed showcasing how the media set the agenda when reporting on different social, political, and economic issues.
Status on the Gender Equality in the Newsroom and Empathy Map for Female Journalists on Gender Equality and Gender-Based Violence, journalists highlighted the following;
The low number of women at the top level
Training not geared toward career development
Women are not given the opportunity to cover the hard news in the pressroom
No room for women in digital news on GBV stories
Newsroom reporting not balanced
Few employments for female journalists
How can journalists report differently, Recommendations of policies on regard to Gender-Based Violence, drafting policies proposals, and what are the best approaches and strategies in the newsroom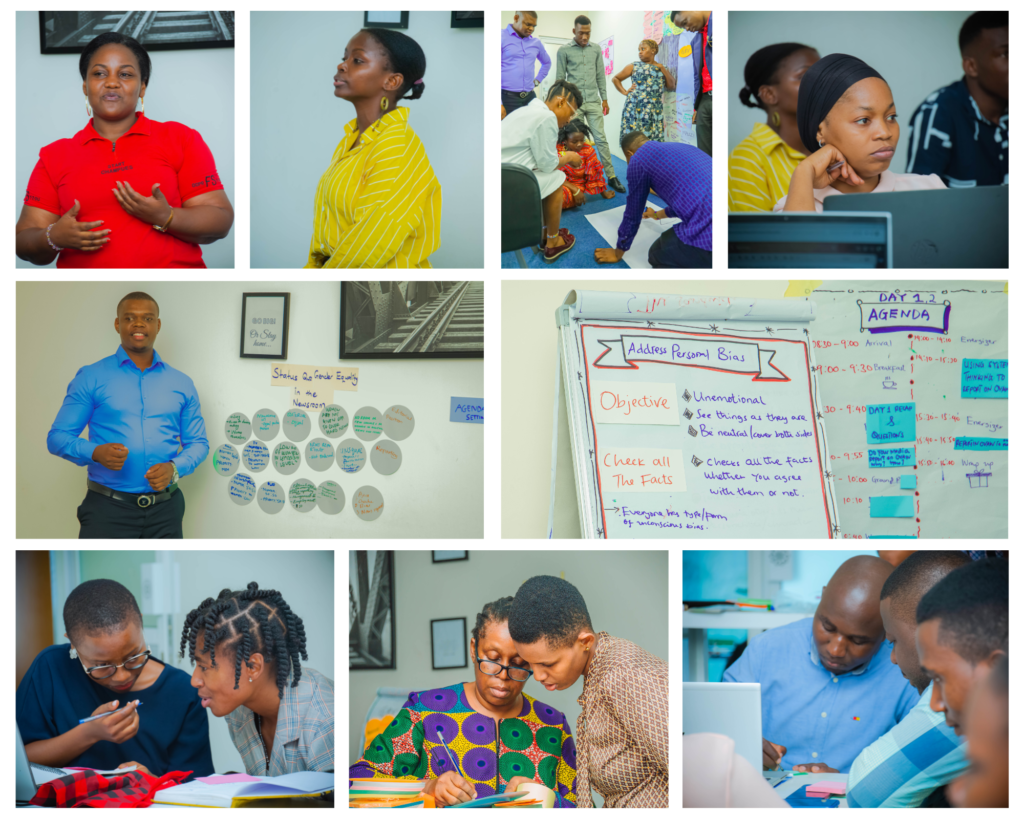 Pictures were taken during one of the days in the 6 days of intense training in partnership with DW Akademie and the German Embassy, at Tech & Media Convergency (TMC), in December 2023
The journalists shared suggestions on what to be done by the government and stakeholders, Media Owners, Editors, and journalists to eradicate GBV / OVAW.
Provision of training on GBV.
Provision of funds for OGV/ OVAW campaigns.
Capacity building for journalists covering GBV.
Awards should be given to encourage or honor journalists that conduct campaigns to fight against GBV.
Incorporating journalism and public communication courses into university curricula.
Create a specific court for gender-related disputes.
Give direct funding for GBV projects or activities.
Building resource centers for publications and research regarding GBV and OVAW
Issuing and enforcing GBV policies transpiring both online and offline
Engaging in international conferences and discussions about gender-related issues
During the training, journalists shared what a newsroom and media house should be in regard to how they report and cover these stories.  Journalists' gender sensitivity knowledge should be the main issue in our media and personnel. Knowledge should be shared based on training on the issue of gender-based violence and OVAW, capacity building, innovation, and training and workshop. Media owners should introduce a gender desk to deal with gender issues in the newsroom and introduce content and success stories reflecting on the GBV and OVAW stories.
The 6 days of intensive training clearly showed that traditional media coverage of online violence against women in countries of Tanzania, Uganda, Kenya, and Rwanda is inadequate and fails to effectively address this serious issue. It is crucial that media professionals, civil society organizations, and other stakeholders work together to promote gender equality and discourage online violence against women. This can be achieved through providing training and resources to journalists on sensitive and accurate reporting, encouraging media owners and editors to adopt policies and best practices, building partnerships and networks, and incorporating gender-sensitive and rights-based perspectives into media and communication curricula. Additionally, Tech & Media Convergency (TMC) (through the Women at Web Program) will continue striving to improve the representation of women in the newsroom and provide opportunities for female journalists to cover hard news and stories on GBV. It is clear that there is a pressing need for action to address online violence against women and I am committed to doing my part to contribute to this important cause.