Promoting Impact Tech | Spotlighting on Lango
Lango is a digital knowledge-sharing platform providing its users with experts with social, mental, entrepreneurial, and digital skills. Their tagline is "Go for greatness" because they believe everyone has the potential to reach and achieve their dreams if they are exposed to skills that fit the area of their specialization. The vision is to see African youth embrace their potential and benefit from the opportunities available in the digital space. On a sit down with Media Convergency, Founder of Lango, Daisy explained how their innovation works, what challenges they are solving, the successes achieved in four months since their establishment, and their long-term goal.
Inspiration behind
Daisy says, "Our education system has been designed in a way that fits for academic purposes only; youth go to school they learn, and the knowledge that they have later ended up not serving their goals in life, the lack of incorporating life skills within schools has made most youth limited to exposure of the digital economy. Our platform intends to fill the skill gap with relevant knowledge from any field or sector, be it social, economic, or financial". This highlights the limitations of the traditional education system, which often prioritizes academic knowledge over practical life skills. As a result, many young people may find themselves unprepared to navigate the demands of the digital economy. The platform aims to address this gap by providing a range of relevant skills and knowledge across various fields and sectors, including social, economic, and financial areas. By doing so, it aims to equip young people with the tools they need to succeed in their personal and professional lives, beyond just academic achievements.
Investing in Lango
Funds have been a challenging part of building the Lango, "I remember my dad was the first investor, the work I was doing before did not pay me enough, and I was fortunate to have someone that fully wanted to support me, though he had no clear picture of the application at the very beginning." This situation is not uncommon for startups and can be a significant hurdle for many entrepreneurs in bringing their ideas to fruition. However, the founder was fortunate enough to have someone close to them who believed in their idea and was willing to provide financial support. This underscores the importance of having a strong support system, which can come in the form of family, friends, or even early investors. Ultimately, overcoming financial challenges can be a critical factor in the success or failure of a startup. Daisy believes the future is still bright ahead since, at the beginning of March, they get to participate in the Vodacom Digital accelerator program; it's a pre-seed.
Business Process
When it comes to how they operate, they have two key customers, which are the teachers and the students or consumers of the skills provided within the platform. Lango started rounding up teachers; two to three months before the establishments, they were able to have over 27 teachers who are industry experts and have already enrolled in their platform and are ready to start courses. Daisy says, "We have created the digital courses with the teachers that will be sold on Lango, marketed via digital platforms and online events to get customers who will be interested to learn these courses; we have also reached out physically to trainers, coaches, inspirational speakers, teachers and to our potential customers creating relationships with them via our social media platforms Their aim at the end of the day is to create a market base for their targeted group that will vary from their area of specialization.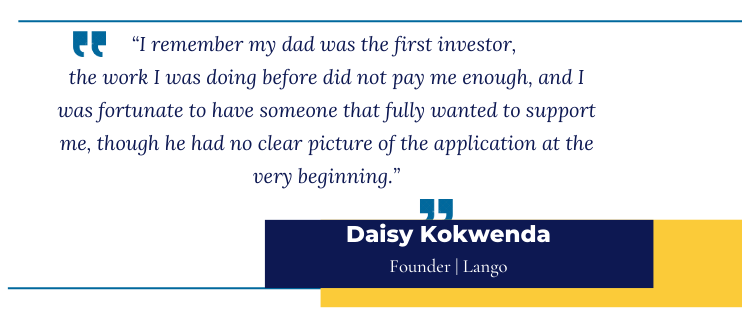 Ecosystem Positioning
When asked how Lango differentiates itself from the rest, Daisy says, "There are similar platforms that focus on ed-tech, but our platform acts as a one-stop digital center where we offer a variety of soft skills which are both digital opportunities and opportunities found outside, the digital space." Lango not only focuses on offering soft skills but also the provision of digital courses which can be easily accessible and adjustable to one's schedule compared to physical training, which can be time-consuming a The Lango is flexible, catering to one's need to fit in their busy schedules; Daisy says, "We do not want to box people to one's career or opportunity; we embrace all fields of knowledge that are vital to our daily lives.
Achievements and Challenges
A robust and welcoming start in the eco-system, in four months, Lango says it is an honor to be recognized by the Vodacom accelerator program and be part of the competition. "Having expertise from the start from different sectors sharing the skills and knowledge to understand the Tanzanian market marks Lango's achievement since they learned and were exposed to opportunities that would help enhance their operations," Daisy adds. No conducive policies surrounding the matter of validating online certificates that can be used in furthering one's career development. Lack of friendliness in the investment policies, most policies need to be more conducive and attractive enough for foreign investors to come in and invest in our innovative Tanzanian venture.
The future of Lango
In two to five years, Daisy projects that, "We would have served 15 to 20% of our target market, that is seeing ourselves expanding to the East African Countries, to Nigeria, to South Africa and establishing our services there and impacting people with knowledge that enhance their potentials." Daisy speaks of the resources needed to enhance and maximize their operations, "Funds is a major roadblock if it's missing, so we need more funds getting to participate in seed capitals competitions but also getting human resources since Lango is growing and there is a need to increase the workforce. It will also help get our office place since most of our activities are done online, and we have yet to have a physical address." "Strategic partnerships A support system that helps our venture get more recognition and people to have an understanding of what our product is and how it works; challenges are mostly on the policies and bureaucracy surrounding the eco-system," added Daisy
Final word
To an aspiring innovator, "Start; a lot will be learned along the way. Be ready to adapt and ask many questions, do not be afraid to fail, research, and expose yourselves to learning from innovators who have been in the space for a long time though the tech industry is still male-dominated; a good example is the Vodacom digital accelerator program having more male founded startups in the competition compared to that of women there is still hope to young women aspiring to bring in digital solution to solve real-life problems." The government needs to be at the frontline, joining in efforts to bridge the gender digital divide by creating a conducive environment for women to thrive, such as getting equipped with digital skills from an early age
To read more about our reports featuring Startups in Tanzania https://bit.ly/ImpactTechTZ2021-Report and http://bit.ly/TECHTZ2022