Promoting Impact Technology | Spotlighting on Bizzyn
Bizzyn is a 2019 founded business solution that offers a full-featured business and financial management suite complete with tools for accounting, inventory, payroll, tax filing, invoicing, bank account tracking and reconciliation, expense management, budgeting, payment processing, and accounts receivable and accounts payable management. Mr. Emmanuel Kimaro, the Co-Founder, sat down with Tech & Media Convergency (TMC) for an interview to highlight their services and how they are helping business owners manage their businesses digitally.
Establishing Bizzyn
"Growing up, seeing how hard it was for my mom to manage her business and that nothing was automated made me think of what easy way I could come up with to help her manage her business," says Emmanuel. "At first, it was all about helping my mother automate her business, but when I got to college, I realized that the struggle is all over, and there is a huge need to automate business operations," he added. Emmanuel shares multiple reports state that in Tanzania, many small businesses are dying within their first five years due to a lack of proper financial data tracking. "If you visit the most popular small businesses sites in Dar es Salaam including Kariakoo, Karume, Mwenge, and Sinza, you will find that there are many people who are conducting business there, but most of them do not have proper means of managing their finances and rather are using traditional ways which at times are difficult to track," explains Emmanuel.
And this has also become a challenge when these individuals are looking for extra financials like investors or loans because when asked about their business performance, they said they do not have financial data to back their words. Emmanuel says that Bizzyn is aiding small business owners to keep track of their business by having proper financial data records, stocking, and other necessary returns to respective authorities.
Investing in the Idea
One thing Emmanuel explained about investing in the idea is that most youths have ideas they want to fund and take to the market. Still, just a few are ready to make the necessary efforts to understand the real problem and where it can be better for them to establish their business.
"On our end, we did not have much to invest in cash; instead, we invested our time and knowledge to study the market, understand the need, and come up with a prototype product that we felt could be ready for the market." He shares that he and his team are glad for the support they got from their networks, who were ready to give a test to their product and gave back constructive feedback. "We were fortunate to get a place where we could set up our office for free, and that is where we received queries concerning challenges on our product and worked on making the upgrades to make it perfect to the needs." He added. Emmanuel shares that to any other innovator, it is essential to invest in skills and the team that you are looking to work with since when you have a great team is when professionalism does matter in attracting more investment from outside as you will be able to build an outstanding product that everyone will be triggered to use.
"Using the cash investment that we secured last year (2022), we are ready to go beyond our operating boundaries. We can now offer a product and after-sell services to as many people as we did during our initial two years." Added Emmanuel.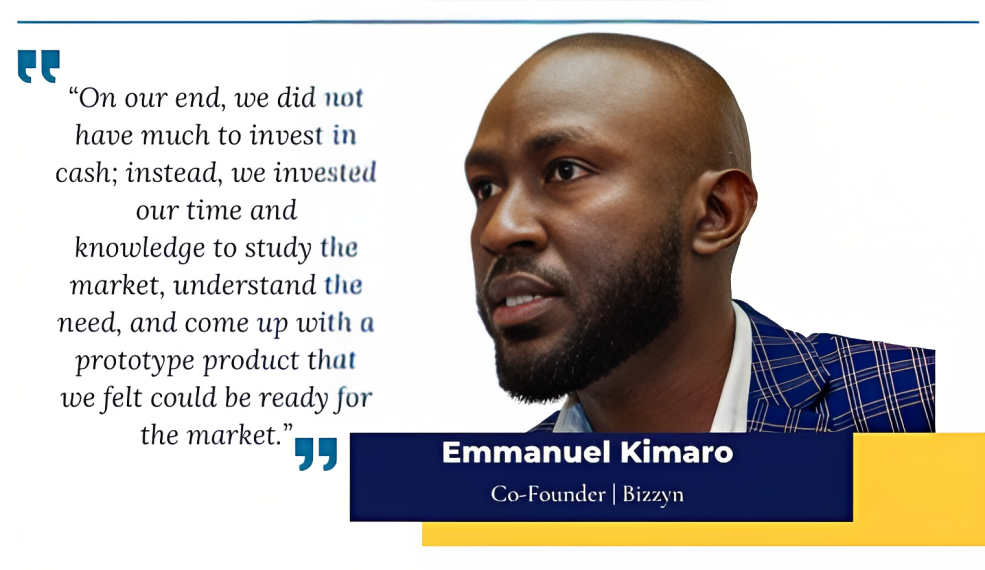 Bizzyn's business process
One of the best things a user gets at first glance when visiting the Bizzyn website is well- described information on why they are in the right place to manage their businesses. Emmanuel explains that understanding that users have different needs has made it easier for them to select the services they need. "With several pricing packages, users can opt for a package that will offer the services they only need access to, making it easier for them to interact with our product." Explains Emmanuel. He explains that when a user is using their product for the first time, they are entitled to a thirty days trial version of the package of their choice, and then they can opt for a monthly or yearly subscription on the preferred package. "And the best part is, we have engineered Bizzyn in a system that you can either degrade or upgrade the package on the services you would like to access considering the nature of your business."
Bizzyn's competitive advantages
Emmanuel shares that before they could enroll their product to the market, they conducted a study on the available products, tested them, asked users, and came up with a solution that could have avoided the challenges people had from using similar products. He highlights that they took those pointed-out challenges as their selling points. "We made sure to work on the challenges that were identified from other platforms to make a better product. The user interface, several useful services, performance, user support, and availability on both offline and online sessions have been a key for our product to attract many customers," explains Emmanuel. He adds that they also train people on how to get the best out of their application and that making sure that every user can exploit the full potentials that their products can offer.
Experience interacting with other companies
Emmanuel shares that there is a huge need to train people to interact with technology in business operations. Many people still need to catch up, mainly contributed to the timely usage of the traditional operating models. "I am glad businesses are ready to transform, but the biggest challenge is that there are a few who are ready to provide the knowledge, and thus many are still afraid of the transformation." He added. He elaborates that the interaction has so far been positive since people are ready and are slowly adapting to technologically enabled services.
Challenges faced and Achievement
"Honestly, customers can never be satisfied since the needs keep evolving." Says Emmanuel. He explains that their biggest challenge so far is that their team is not big enough to implement 
all the features that users have been pointing out. He elaborates that despite that, they have been putting shifts to make sure that at least they put on the market the services that have been pointed out by many, and thus it has given them a chance to stay atop and provide unbeatable services through their product. "Seeing people using Bizzyn is the most significant achievement we have so far," Emmanuel shares. He elaborates that as a founder, he and his team are proud that they are impacting lives and transforming business.
Enhancing operations and the Long-term goal
Emmanuel shares that as they look to impact as many businesses as they can, they are working around the clock to rebuild the team and be able to provide quality services. "We started our pockets, but now that we have had a product in the market and we know it has a huge impact, we are looking forward to securing funds, having more people aboard, and working hard to make sure that we deliver in time." He added. He further explains that he believes in product innovation, especially regarding quality and functions. He believes that with the right team and enough money, they will be able to provide unbeatable services to their customers. "As I said, though we cannot satisfy their needs, we can at least make sure that they are nearly satisfied by accepting that we are doing our best to improve what we offer." He added.
Advice to innovators
Emmanuel advises aspiring innovators to ask themselves the big WHY before they can try to solve problems in the community. He shares that many issues need solving, but understanding the problem is vital to a proper solution. "Most of us lack a clear business model, which should always be looked at. Yes, you might know the problem, but sustainability is always the key, and it is from your well-defined business model you can find the sustainability I am talking about." He elaborated. He shares that as long as you are sure of making an impact in the community, be consistent, trust yourself, and never give up.
Final Thoughts
Emmanuel shares that they are looking forward to ensuring that small and medium businesses are formed by providing them with a tool that will help maintain and manage their financial information and help them stand out whenever they are looking for future investments and collaborators. He added that as the startup ecosystem in Tanzania is growing, it is essential for people in the ecosystem to provide chances for startups to show what they are good at and deliver impactful solutions through the support of those who have made it a step further.