Promoting Impact Technology | Spotlighting on Nibebe App
Have you ever found yourself in a situation where you are unsure which mode of public transport to take to reach your destination? Paschal Giki, a computer engineer, software developer, and founder of the Nibebe App, has come up with a solution to this problem. The Nibebe App is a platform that offers access to public transport, ride-hailing, and carpooling services. Additionally, the app integrates these services with offline platforms like USSD and SMS, making it accessible to communities without internet connectivity. The Nibebe App provides users with real-time information on public transport schedules and routes, eliminating the guesswork that often comes with taking public transportation.
Through the app, users can compare prices and estimated travel times for different transportation options, making it easier to choose the best mode of transport for their needs. The carpooling feature on the app also allows users to save money on transportation costs while reducing traffic congestion and carbon emissions. Paschal's innovative solution has been instrumental in making public transportation more accessible and convenient for commuters in Tanzania. By integrating the app with offline platforms, the Nibebe App has made it possible for people in communities without internet access to enjoy the benefits of modern technology. Paschal's vision for the Nibebe App is to revolutionize the transportation industry in Tanzania and make it more efficient, affordable, and accessible to all.
Establishing Nibebe App
During his exchange studies in Shanghai, Paschal recalls being fascinated by the fact that people can share their rides, including cars, bikes, and public transportation. "When I returned to Tanzania, I learned of heavy traffic and commotions in public transport, especially during mornings and evenings. But, despite traffic and commotion, it is still common to see people owning cars driving through public bus stops with empty seats. So, I thought of creating something to help these people fill their seats whenever convenient by connecting with those who live nearby or share the same route, whom I named 'travel buddies," Paschal elaborates.
Paschal explains that he drew inspiration for Nibebe App's features from BlaBlaCar, a French-based online carpooling marketplace. He explains that, while he based his prototype on BlaBlaCar, he did put effort into understanding "a Tanzanian city transportation model" to ensure that the features are user- centric and relate to the environments we typically commute in. "Nowadays, it has become easier to get to places through cab-hailing apps and public transport, which is common for many. But, with Nibebe App, we want to help people learn how and when to get to places and, whenever convenient, connect them with nearby travelers who share the same journey route we call journey planning." Explains Paschal.
Investing in the idea
"In Tanzania and many parts of Africa, having a working prototype product is crucial to attracting investors, unlike developed countries where investors can fund an idea," says Paschal. To overcome this challenge, Paschal invested time in understanding the market and developing a prototype of his product, which he later tested in the market. To date, Paschal has bootstrapped his business out of his pocket, with the help of friends and family. He has been diligent in keeping track of the business finances, monitoring expenses and income to ensure he has a clear understanding of how much has been spent on what. This helps him make informed financial decisions and keep the business running smoothly.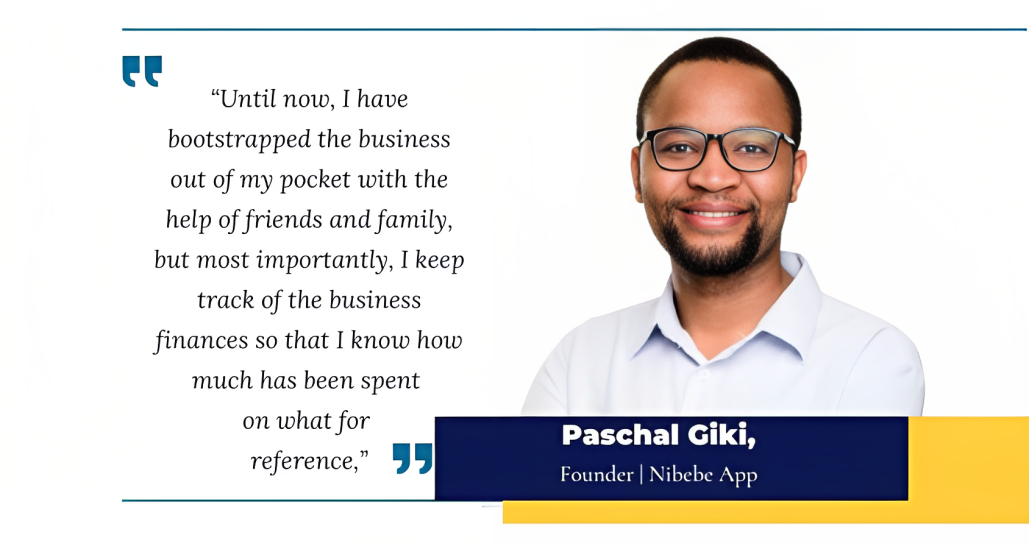 Business Process
According to Paschal, the rise of car usage in commuting has prompted changes in the transportation industry. To accommodate these changes, the Nibebe app has introduced three modes of interaction for its users. The first mode is the driver mode, which allows users to locate potential travelers along their regular commuting route. The second is the passenger mode, which enables users to find nearby drivers or those heading to the same destination. Lastly, the direct mode provides users with information on public transport routes, making it easier for new users or those unfamiliar with the city to navigate. By offering these three modes, the Nibebe app has made it easier for users to find convenient and affordable transportation options that suit their needs. The app's flexibility and user-friendly interface have made it a popular choice for commuters in Tanzania.
Competitive Advantage
Paschal describes Nibebe App as a journey-planning app. He explains that they have integrated features into their app that set them apart from other cab-hailing apps. He explains that features such as "Group Carpool" enable users to create shareable routes; with this feature, if a user cannot find a ride within our app, they can join and use other cab-hailing apps to hail a ride. He goes on to say that with the app, public transportation users can broadcast live locations, allowing other users to track where and when a bus will arrive at its destination. Also, during this broadcast, users can chat and tell themselves about the car's movements.
Challenges, Achievements and final thoughts
Paschal shares that the most significant challenge faced was market reception. He explains that the market is used to certain ride-hailing apps, and thus it became a challenge to have them understand what different Nibebe App brings to the market. To overcome the challenge, He explains that he had to go through an intensive 40 days of research across other regions to talk to people about their understanding of the ride-hailing apps and how they can transform the transportation sector. "I have built several apps that people are using until today, but neither compares to the milestones Nibebe App has reached." Explain Paschal. He shares that the product has contributed to how the transportation system works and helped people make an extra income. "Making an impact on my community is what I'm most proud of." Added Paschal.
Final Thoughts
He advises being brave and speaking up about your idea because many young people are prevented from breaking through by the fear of talking to people because they fear it might get stolen. He explains that talking to people can help you identify areas where you can improve your idea as it grows to become a product. He exhorts young people to take risks because the rejections they receive might pave the way for them to succeed if they learn from them and improve.