Promoting Impact Technology | Spotlighting on Panda Digital
Have you heard of a digital solution that specifically targets girls and women entrepreneurs, offering them the opportunity to enhance their career development with digital technologies? Panda Digital is an innovative e-learning platform, utilizing a hybrid approach and the Swahili language, with the aim of equipping young women entrepreneurs with knowledge, skills and resources required to start and manage their businesses.
Meet Lydia Charles, the founder and executive director of Her Initiative, a women-led organization focused on empowering adolescent girls and young women to break the cycle of poverty and achieve financial independence. As a feminist, Lydia is deeply passionate about women's empowerment and financial freedom. During an interview with Tech & Media Convergency (TMC), she elaborated on the profound impact of her digital product.
The primary goal of Panda Digital is to facilitate the skills development of young women in technology and entrepreneurship, providing them with the necessary tools to learn, grow and achieve their goals. The tagline of Panda Digital is "Ujuzi wa kibiashara kwa uchumi wa kidijitali" which translates to "Business Skills for the Digital Economy" in English. #JiongezeKidijitali is used as a call-to-action, urging young women to take advantage of the opportunities presented by the digital economy.
COVID as an Inspiration for Panda
Lydia explains that the idea for Panda Digital was sparked during the pandemic, which had limited people's mobility. They realized the need to digitize their training programs and make them accessible to individuals remotely. With this realization, they began customizing their training from physical to virtual formats, utilizing popular digital technologies like Google Meet and Zoom. However, they soon discovered that it wasn't as sustainable as they had imagined. It required a lot of internet bundles, and the virtual training programs needed much supervision to function efficiently.
Despite the initial setbacks, they recognized the immense potential of digital technologies in supporting women's economic empowerment during the pandemic. The use of digital technologies made it possible for young women to continue their training and education without leaving their homes. They were able to acquire new skills and knowledge required to navigate the digital economy, which was increasingly gaining prominence due to the pandemic.
Source of funding for Panda
Lydia shares that Panda Digital's investment journey began with a seed fund from Women First International, an organization in the USA that supports initiatives addressing pandemic challenges across various categories. The company received 10,000 USD from them. She further shares highlighting on the challenge of acquiring local funds for tech-operated investments in Tanzania.
This highlights the difficulty of securing funding for emerging businesses in a relatively nascent industry. Local investors may have limited exposure to technology and its potential, leading to lower levels of digital literacy and awareness. This can make them more risk-averse and less likely to invest in tech-operated businesses, which can be perceived as more complex or risky compared to traditional businesses. In contrast, foreign investors may have a more global perspective and be more willing to take risks in emerging markets like Tanzania, potentially seeing the potential for growth and profitability in tech-operated businesses. The reliance on foreign funding sources, including venture capitalists and angel investors based in more developed countries, as local funding can be difficult to secure.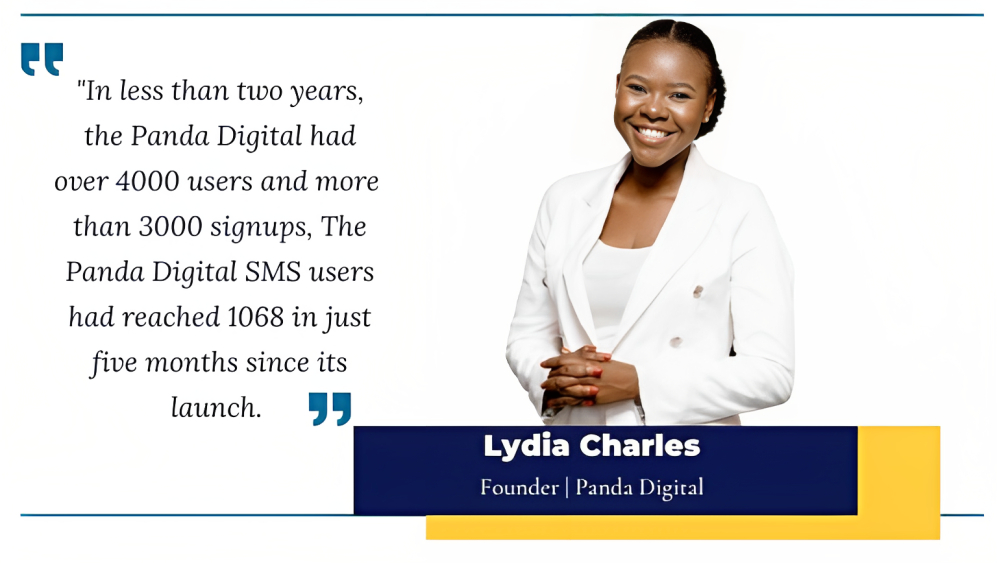 How Panda Digital works
Panda Digital has a website which is https://pandadigital.co.tz/, so one goes to the website, then they register all the needed information that is required from them, and then can select between the two courses available on which to enroll. The two courses available are the Digital marketing course and the Business model. Lydia says, "For example, Digital marketing has a compilation of 10 videos providing knowledge and insightful information. The user must go through all the videos since all the learnings are in Swahili. Panda Digital also has a section for a quiz where one gets to evaluate themselves, and if she successfully passes the exam, then is awarded a certificate.
Write the word Sajili in English, meaning Register through 0767680463. Then one will get a message asking you to send your information name, age, and the region you are based in; after successfully registering, a message will be sent to you that you have successfully joined the Panda Digital platform. Two sources will be displayed on the message, and you can pick any of them to begin your sessions; after the completion of the sessions, a link to your certificate is sent to you, or if one prefers to have a hard copy, then they can bring it to where one is located.
"We Interact with young women through online campaigns, Twitter spaces, and chats, use of influencers champions we do forums, we capitalize on online young women, we also do community mobilization by traveling to different regions, get to talk with girls about basic digital skills, enroll them to the panda digital website or Panda Digital SMS as well as partnering with like-minded people that advocate on what we do.
Tackling GBV and OGBV through Panda Digital
Panda Digital has taken an active role in addressing issues related to sexual corruption and gender-based violence (GBV) through its "Ongea Hub platform". This new segment, launched in November 2022, provides a platform for reporting incidents and cases of sexual corruption experienced by young women entrepreneurs. The information collected through the platform has been compiled into a database, which has been made available to the government. Panda Digital has acted as a link between the victims and various support organizations, including the Prevention and Combating of Corruption Bureau (PCCB) and other legal aid organizations.
Ecosystem Positioning
Most e-learning platforms focus on skill development using the Swahili language; we have customized panda digital to fit the needs of young women in rural and urban areas. Panda digital is not limited to time; a user can enroll to take courses weekly or monthly; it does not have to be daily. It is a free platform from enrolling to classes to all the benefits found within the forum do not need Enroll in the opportunity section inspiration behind there are opportunities from the public and private sectors. These are among the unique aspect of Panda Digital is that it is a free platform, from enrollment to all the benefits found within the forum. The platform also serves as a center between the public and private sectors to bridge the gap in access to opportunities. The team ensures that all the opportunities in their database are visible to users to increase their chances of success.
Still, not all women have access, so we act as a center between the two sectors, so all that is part of our database get to see these opportunities. It focuses on skill development for job creation; it is a platform where you learn and are sure to get an opportunity to enhance your career development. If a woman is skilled enough, they'll be able to engage in income-generating activities and, after that, create job opportunities for themselves.
Accomplishments and Challenges
In less than two years, the Panda Digital website has over 4000 users and more than 3000 signups. The Panda Digital SMS users are 1068 in just five months since the launch. Panda Digital products have reached young women quickly, given their limited resources. Panda Digital has managed to develop skills within the team; it has exposed young women to digital opportunities; they have successfully managed to act as a linkage to support issues of Gender-Based Violence; we have several cases that we refer to PCCB and other legal aids organizations, they have built trust between young women and us and promoted Inclusiveness between urban and rural areas.
Lydia highlights the challenges encountered, "Working with others, they are reluctant to do new things, not open-minded, limited funding, skills gap when it comes to getting the right people who will help you reach your goals, poor strategy, lack of enough support from development partners and community responsiveness on digital products."
When it comes to what to improve to enhance their operations, it is funding and getting connected with partners doing something similar in the country and region. Speaking of their long-term goal, Lydia shares that "Women have unlimited access to opportunities and benefit from all digital opportunities."
Final thoughts
Lydia, the co-founder of Panda Digital, not only talks about the role of her organization in addressing issues related to sexual corruption and gender-based violence but also offers advice to aspiring innovators. She highlights that aspiring innovators should dream big and take on challenges, even when they face adversity. However, starting small and consistently putting in the work is also essential to achieving success. Lydia emphasizes that innovation is a challenging journey and that innovators will encounter numerous obstacles along the way.
Nevertheless, with persistence and hard work, innovators can achieve their goals and make a positive impact on society. Lydia's advice encourages innovators to focus on the journey instead of the destination and to always believe in their ability to make a difference. By doing so, innovators will not only achieve their goals but also contribute to the betterment of society. Her message is clear, that even if the path to success is challenging, with determination and hard work, anyone can make a significant positive impact on society.
To read more about our reports featuring Startups in Tanzania . See here https://bit.ly/ImpactTechTZ2021-Report and http://bit.ly/TECHTZ2022