Digital NGOs: A Call to Action for NGO's from hon. Minister, Dr. Faustine Ndugulile
This call to action was during an event at the report launch titled "An overview of Digital Ecosystem, Emerging and Applied Technologies on NGOs in Tanzania" brought to you by Tech & Media Convergency (TMC), July 2nd 2021 at the Dar es Salaam Serena hotel that was graced by the Minister of Communication and Information Technology Dr. Faustine Ndugulile as the guest of honour, he laid down a number of 'a call to action' to non-governmental organisations (NGOs) while also sharing what they can do as a ministry in ICT to foster digital developments and transformation in Tanzania.
Dr. Ndugulile, informed and reminded that, the ministry was formulated with the vision of harnessing the potential of the 4th Industrial Revolution and we as a country wanted to make sure that we go with that wave of which its core component is ICT. "As we embark digital economy journey, we also as a government wanted to make sure that we are at the forefront of ensuring potentials digital economy in this country and the digital transformation for that matter are also potentiated".
The Minister's Call to Action for NGO's
The Minister addressed the Digital positioning on NGOs and a call to action for NGOs in embracing, promoting and applying digital transformations in their work by addressing on five areas mentioned below.
Firstly, Advocacy for access, affordability and availability of digital services in order to bridge the rural, urban and the gender divide. The NGO community needs to be at the frontline in raising awareness to girls in both rural and urban areas as well as to people in rural and urban area of different fields on digital literacy and how one can use the digital space for personal development or benefiting financially.
Secondly, The NGOs needs to demand for reforms in policies and laws that govern the ICT sector.  Any law that exists which stifling the growth of the ICT sector, then the ministry is more than happy to look at. One of the area that they have promised they are going to change is the online landscape since the laws that govern that area prohibits creativity and innovation. Laws and policies that govern the digital space need to be user friendly, while ensuring growth in the applied technologies.
Thirdly, Oversight on the ICT sector, there is a need to have NGOs that specifically focus in addressing and promoting information, communication and technology, have trainings, dialogues and events that advocates on that. This includes championing for technological solutions such as having trainings on file programming systems, what content to share, how to share it and how a person can protect themselves from issues such as Online Gender Based Violence. What are the laws that govern a person when using the internet or when there is a problem where can a person go to get an immediate help.
Fourthly, More NGOs need to be present in addressing and promoting Safe Cyber Space especially for girls, the goal is to create an enabling environment for women to be able to access and use the digital space for development for with more voices significant changes in the society can take place.
Fifth Existence of platforms that are there to prevent misinformation to the masses whether it is about political, economic or social issues by acknowledging the correct information and identifying hoax news while ensuring the ones responsible for spreading misinformation are dealt with according to laws that govern us.
The advent of Data Protection, Privacy and Security in Tanzania
Dr. Faustine informed that the Ministry is at an advanced stage of coming up with a new law that will be called Data privacy and data protection law which aims not at muzzling freedom of expression but rather protect citizens data and information in the way it is collected, preserved, used and shared. This so as to ensure the protection of data focuses not only at an individual level but at an institutional level as well. He acknowledged there is a need to create a system that will enhance data protection for both public institutions and private sectors.
Decelerating Digital Divide in Tanzania
Dr Faustine Ndugulile says, "Tanzanian Internet coverage in the in the country is around 63% while the utilisation is only 23% which is very low, there's a gap of almost 40%, this is an area that we as a government want to embark, we have removed taxes on mobile and digital devices as for this new financial year that started, the aim is to increase the Internet penetration and usage in the country, we therefore urge the NGO community to also emphasise in that area.
Upcoming Digital-Centred Projects from the Ministry
During his speech, Hon. Dr Faustine Ndugulile mentions projects that they are currently working on;
Firstly, The broadband coverage, the ministry is tasked by 2025 to make sure that 80% of this country is covered by broadband backbone, we have managed to get to all regions and by next year we want to make sure that we get to all districts. Currently 7910 kilometres of national ICT backbone is covered and next year we're going to construct another 1808 km for we want to make sure by 2025 we are able to get to 15,000 kilometres of national ICT Backbone and this is the main road of communication in this country.
Secondly, Tanzania to be the hub of communication in the region. He stated that, "we are surrounded by 8 countries so far and right now we're working to connect Tanzania with Mozambique, we are also doing feasibility study to connect with Democratic Republic of Congo and that work is going to start next year", with this the goal is to be able to connect all these neighbouring countries with our ICT national backbone.
Thirdly, the ministry has started embarking with the rural connectivity. On this the Minister stated that; "currently 94% percent of all Tanzanians are able to access telecommunications but we also have 60% percent of Tanzania covered by communication coverage". The ministry has recently announced a new tender covering the boarding areas ensuring that people do not use communications from neighbouring countries rather these communication channels are to be secured that people will be able to have access of communications from the Tanzania side.
Fourthly, Digitisation of different government run entities. Dr. Ndugulile expressed that the government planned to start investing on ICT from very early on. He explained that "Digitisation process in education centres needs to make sure that computer studies are taught from a primary entry level, rather than in ordinary or advanced level, we are planning to have a program with the Ministry of education" further stating that, "there was a need for having coding schools so that students during school breaks can attend classes such as these and learn".  The minister expressed determination that in the next five years there was an intent to create potential innovators, who are skilled in ICT within the country. "If we create enough programmers, people who have specialised in cyber security and have enough pool of people who know how to do data analysis then they can get jobs anywhere around world hence we create jobs but also bring forex income in the country" he said.
Fifth, the ministry was working on the "Residential Address and Postcode" for this is the mainstay of e-commerce. In the next five years they want to make sure that you no longer have to go to the post office. If you have your parcel and you have your goods they're going to be delivered at your door steps through your device connected to an individual's mobile phone. This is an initiative that the government is working in partnership with a local private Innovator.
Readiness of the Ministry in the Digital Transformation journey
The Ministry in Information, Communication and Technology says they have an open-door policy and it's ready to work with NGOs and development partners. They are there to listen to innovators ideas and work in turning it to a reality that can bring digital transformation in the community. He promised to work on all the raised matters and challenges shared by participants during the event by giving a timeline of feedback not exceeding 7 days. He further concluded his speech with complementing Tech & Media Convergency (TMC) on the Digital NGO report launch by stating that, "I would like to thank Asha the CEO of Tech & Media Convergency (TMC) and the team, we spoke about this project in August of 2020 and I am glad this project has come to flourish, congratulations for this initiative."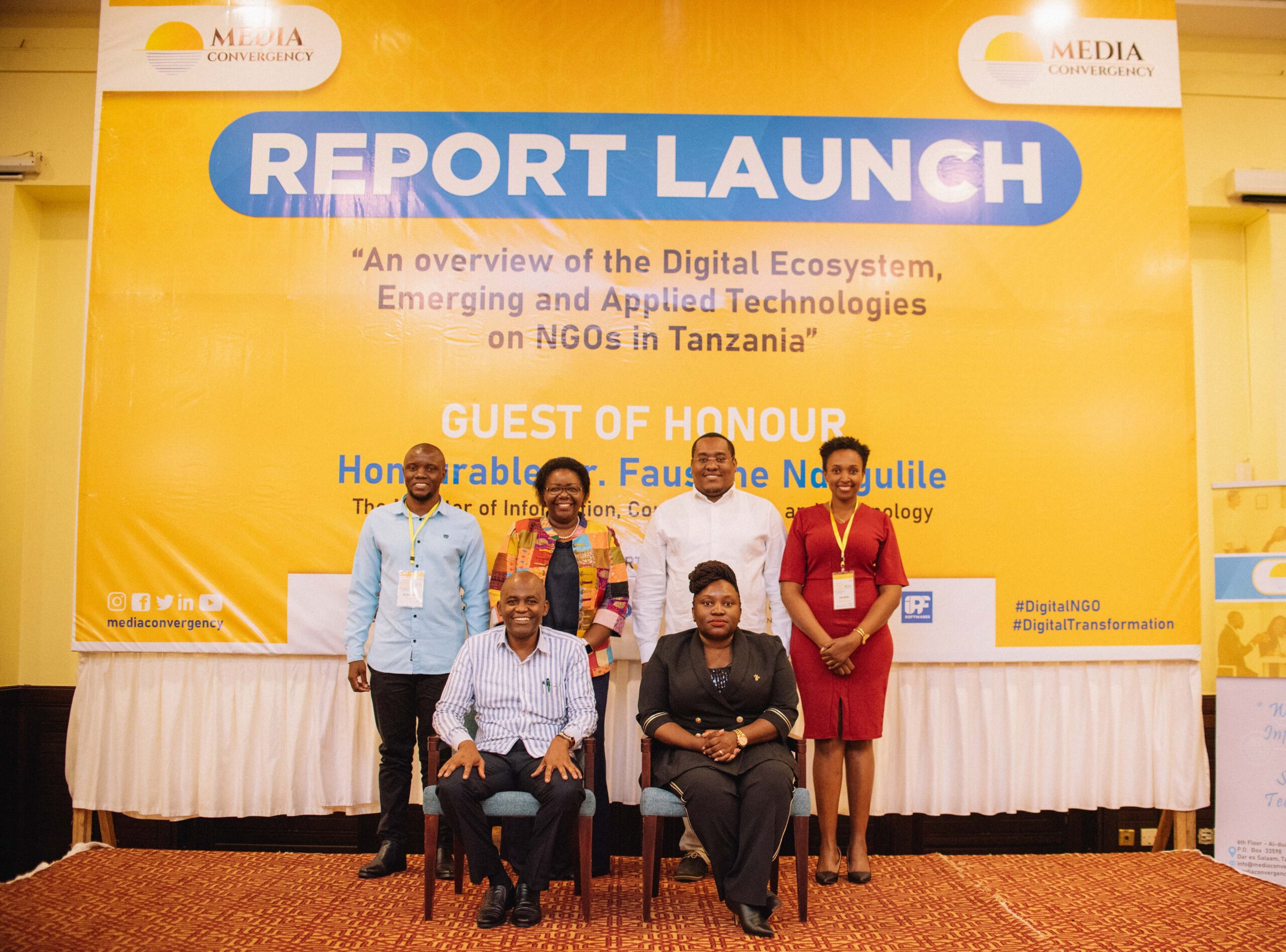 Why the Digital NGO Report?
The report was inspired by Tech & Media Convergency (TMC)'s grasp on the digital gaps across and within organisations. Tech & Media Convergency (TMC) believes that, it is important that it fully understand its clients' core services and business to allow them to offer best digital solutions and technological applications that fit and address the clients core needs. Tech & Media Convergency (TMC) understands that by knowing an entity well, it's practically possible to proposes feasible solutions that aim to address the identified internal digital gaps, digital risks, recommend technologies and other related digital capacities.
This report highlights the findings of a survey on 'An overview of the Digital Ecosystem and Emerging Technologies in NGOs in Tanzania', conducted on Twenty (20) Non-governmental organisations that were selected to be part of this study. The overall objective for the report is to frame and advance the conversations on absolute Digitisation, adjoining digitally-enabled technologies and Digital Transformation for the NGO community in Tanzania. A holistic approach is necessary to speed up the Digital Journey with informed decision-making to enhance efficiency, impact and value in programs and projects.
To be able to download the report click HERE. And to access the whole information package of what Tech & Media Convergency (TMC) is with current running projects visit HERE. DigitalNGO report can also be followed through the hashtag #DigitalNGO.