LAUNCH: The Innovation and Tech Forum
I stand in front of you with deep-felt gratitude of your presence, support and participation at launching the Innovation and Tech Forum. We at Tech & Media Convergency (TMC) feel honoured, privileged and indebted to deliver that which we have started.  Without further ado I would like to thank the participation of the guest of honour Director General of Tanzania Commission for Science and Technology (COSTECH), Dr. Amos Nungu. We acknowledge and thank the very supportive BUNI team for facilitating us. We extend special recognition to the United Nations Development Programme (UNDP) through the Funguo program which share the same vision with us, of enhancing the ventures in the ecosystem and last but not least our partners Habari Hub, the first partner to trust and believe in Tech & Media Convergency (TMC) when we joined the ecosystem.
It will be amiss not to acknowledge the presence of our esteemed panellists for today; including some of a few pioneers of the innovation and tech ecosystem in the country plus those in the audience. We stand on their shoulders and indeed are thankful. Sincere thanks to the all the start-ups who have been part of the promoting impact technology project. They are among the reason this forum today has been birthed.
Understanding reality and facts, perceiving how to apply that which you understand, being conscious of who to reach out to when you need advice, assistance, referrals or direction of the right path eases growth, pain-points as well as making valid and accurate decisions. To achieve innovation-driven and growth-oriented ventures, entrepreneurs must balance application and convergence in the ecosystem and of the ecosystem. Knowing this is easy, manifesting this is not easy. It is in that spirit on why we hope that the Innovation and Tech platform will fill in some of that void for the youth and women.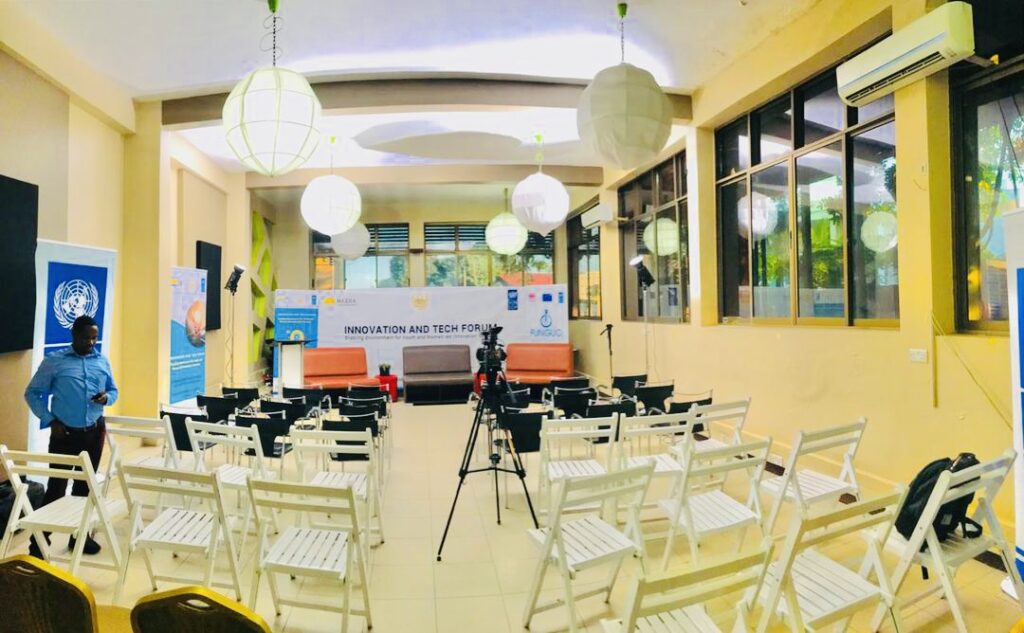 It is our hope that we will not only start ventures to stagnate or fail. But that we will start the ventures, we will grow and that we will succeed. And if it happens we fail, we will not be ashamed to ask for support and guidance on how we start again by learning from our mistakes. It won't matter how many times our ventures will stagnate and fail, but it will matter of course, if our tech ecosystem stagnates and fail.  Nevertheless, if we all in the ecosystem (that is to say the old, new, and the coming) can fully and reliably depend on one another consistently and mutually; then we have won already.
The Tech and Innovation Forum is designed to establish a consistent platform for small-time innovators and small-time tech champions to meet with the seasoned players of the ecosystem from the private sector, public sector, respective authorities and stakeholders so as to learn, share, network and have access to available opportunities from the ecosystem. It is our hope that the forum will help to identify and examine ecosystem gaps for start-ups and harness the potentials of technology and innovation in the Tanzanian Community.
Tech & Media Convergency (TMC) with partners, The United Nations Development Programme (UNDP) through the Funguo program, COSTECH through the BUNI Innovation Hub and Mwananchi communications through the Habari Hub has joined forces to establish the platform, however its survival and reaching the goal of enabling the environment for Youth and Women led Innovation Ventures depends more on alliance of all the stakeholders from the ecosystem. We implore and kindly request in advance for collaboration of any kind whenever we reach out to push the bigger agenda of the Innovation and Tech Platform.
So how do we move forward? How do we learn from each other? And how can we create those interlinks from each other from the community? The insights and thoughts from the panelists in both topics have laid groundwork in one way or another. And if one thing we can all easily agree on, it is that it is crucial we understand we need to use time wisely, a lot of dedication, a lot of married thoughts that drive at a common goal of enabling an environment for the Youth and Women led Innovation Ventures. While Matt Mullenweg reminds us that "Technology is best when it brings people together." Henry Ford (the founder of the Ford Motor Company) emphasises that "If everyone is moving forward together, then success takes care of itself."
To ensure the sustainability of the Innovation and Tech forum, we have identified and collected advice from a variety of tech and innovation experts in the ecosystem on the best way for the platform to work, survive and have impact. The recommendations were eventually summarised into two approaches that we have applied. The forum will be mentored by the 5 expert advisors each strong in a different area with attributes that'll add value to the Innovation and Tech forum. And secondly, the steering committee that is made up of the small-time innovators and small-time tech champions in the developing stage to come together and collaborate in strategizing content, quality, impact and value for the platform to the ecosystem and overall goal. Both parties will be formally introduced the publication summarising todays content in the meeting.
It was why we thought it wise and important to have an esteemed, seasoned expert who would share insights to guide us through. Such experts and gurus include such as Wilmore Mihayo, Jumanne Mtambalike, Thereisa Busagara and Joseph Manirakiza. We are also fortunate to have Mr. Salum Awadh who has an exponential wealth of knowledge in Investment (be it Ventures, Banking, Global and local and in this case sustainability of platforms such as the Innovation and Tech Forum). We have reached out to a variety, some of them in this room today some not but all having a common attribute of interest in our ecosystem.
The grain of having a platform that connects the targeted group was born out of the promoting Impact Technology project implemented by Tech & Media Convergency (TMC) in partnership with Habari Hub launched in January 2021. The project promotes solutions applied by young aggressive talented minds that use technology and innovation to provide solutions that consider the Tanzanian context and challenges. It is from this community we hope that the steering committee will comprise of. So far, we have featured twenty-two start-ups to date; that is also to say a potential wealth of twenty-two (22) start-ups in the developing stage to be part of making the platform valid, useful and impactful. Tech & Media Convergency (TMC) and partners calls upon these tech innovators to embrace and own up the goal of enabling the environment for Youth and Women led Innovation Ventures.
We wish the Innovation and Tech platforms works out and grows into something permanent. While we acknowledge that it is not guaranteed for it to be permanent, we guarantee that we will give it our whole to try and make it be.
I would like to thank, each and every one of you for accepting our invitation and being part of this great journey by attending the launch today. Thanks a lot.
Asha D. Abinallah
Chief Executive Officer
27th of August 2021