Clinic Session: Media engagement and Digital Advocacy for Social Impact
As part of the CSO Week 2023, Tech & Media Convergency (TMC), Twaweza, and Tanzania Editors Forum (TEF) collaborated in hosting and initiating the clinic session for the NGO community on the best approach to using Media Engagement and Digital Advocacy for Social Impact. The CSO Week 2023 had over 500 organizations participating during the week with a variety of stakeholders from across all sectors in the country.
The clinic had 2 objectives
To evaluate the relationship that CSOs have had with the media
To share how imperative it is for CSOs to leverage digital media to amplify their activities' impacts.
The clinic session was moderated by Ms. Anastasia Rugaba the Advocacy Manager at Twaweza. She highlighted that there had not been a significant relationship between CSOs and media, comparing it to how it has been to its counterpart, the private sector. She shared that while the media looks at the profit side of things, CSOs have wanted them to cover their stories without asking for anything in return. On the other hand, she shared that CSOs have not been trusting the media because they sometimes feel that the media is twisting the stories they get, especially advocacy activities which sometimes touch the government and thus fear for their reputation.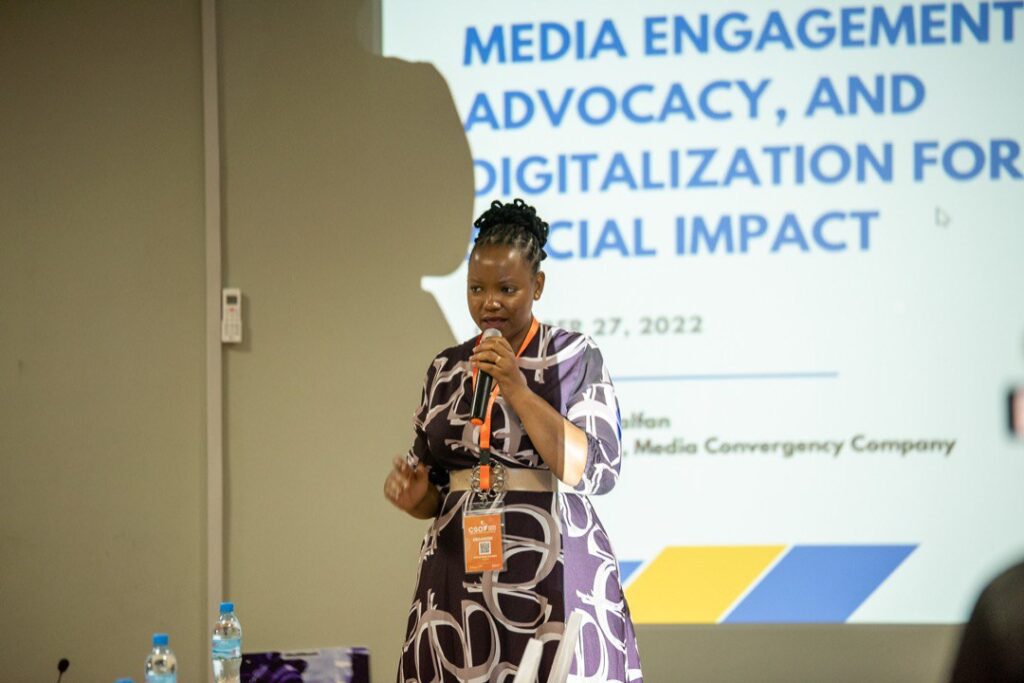 The use of Mainstream Media for CSOs
To sparkle the session, Mr. Deodatus Balile, TEF's Chairperson, shared his experience referencing the differences between working with CSOs, the public, and the private sector. He posed five questions;
One. Are CSOs living in a fast-paced information society?

Two, is information distribution one of the most significant challenges?

Three, is there any importance for CSOs and media to have a working relationship?

Four, are CSOs have a natural link with the media in Tanzania and beyond?

Five, are CSOs have a systematic or strategic approach towards the media?
He highlighted how each part has considered the other regarding media and storyline coverage. "While CSOs want the media to cover the stories of their activities, they forget that we in the houses are working hard to keep our best editors who work day and night to ensure that the stories shared are of quality and deliver the message as it is," explained Mr. Balile.
He further explained that there is a need for the CSOs to see how they can work with media by not treating them as just story coverage partners but rather as their partners in implementing their activities. Mr. Balile said, "while we in media consider the CSOs as where we can get more stories to cover and publish on our media, you too should take as impact partners by letting us know when and where your activities take place." He highlighted that the profit part could be worked out if both parties could 'take a seat' and discuss the implementation for mutual benefits.
One of the attendees raised a concern to Mr. Balile by asking what steps were taken against some individuals and media publishing untrue stories or twisting them beyond reality. Mr. Balile responded by sharing that as TEF strives for editorial excellence, they have a committee that upholds editors, and their media reported untrustworthy of their activities. He shares that if an organization's story has been told the other way round, you should write the respective press and the story's author to the committee, and they will handle the rest according to their code of ethics.
He concluded his presentation by sharing that, as private sectors can set budgets for media engagement activities, CSOs should also consider how they can put media budgets on their yearly plans as they continuously receive handsome funding from donors. They invite the media when they launch their projects and when they close out and present their implementation reports. He urges the media to learn and understand how CSOs work and their project as a whole so they can know how they operate. Mr. Balile also shared that CSOs have to learn how media works, and in the end, they can all achieve their targets collaboratively.
Placing Digital Media at the center of CSOs
Ms. Shamsa Shams, Tech & Media Convergency (TMC)'s Project Officer, took over the discussion by sharing that media engagement has been an essential and best aspect for sharing stories, information, and research through mainstream media, including the print media (Newspapers) and Broadcasting Media (radio and televisions). She went on to explain that despite newspapers and television having a considerable influence in the community, radio is by far the most popular media across the whole country, with over forty-five percent (45%) of the Tanzanians (that is four out of five people) using it as a daily source of news and information. Ms. Shams shared that the continuously growing supply contributes to this. "Over the last couple of years, the number and spread of radio stations operating in different parts of the country has rapidly increased, including in areas with rare access to newspapers and television." She said.
Even though the majority are using mainstream media, there has been an invasion of digital media, including social media and digital television and radio, which keeps rising due to the increased internet coverage across the country. She explained that the growing influence of social media is vast, and thus most organizations are now considering it to amplify their operations. Ms. Shams said that while organizations have been doing most of our activities on the ground, the internet has allowed us to take our activities' impacts beyond the environments where we operate. She highlighted that leveraging social platforms will enable organizations to tap into the wealth of resources at your fingertips: employees, business partners, customers, industry influencers, and other stakeholders," she added.
Ms. Shams further highlighted that despite the internet presence and the shift toward digital media, most organizations still need to figure out where to start. Those who have started that journey need to figure out what to do as they embark on the digital journey, thus finding themselves stuck and doing things not the wrong way but in a way that the impact is different from what they expected when they opted for digital media. She explained that the digital media strategic plan and digital killed personnel are the main contributors to this failure.
Ms. Shams argued that organizations to invest in understanding digital tools as they have become a central component of almost any movement; she highlighted some of these tools, including websites, blogs, email applications, and social media. She shared that these tools can be used for digital advocacy by starting and running different online campaigns, which are the strategic use of digital technology to advance and amplify advocacy initiatives and efforts. They help make issues public and spread the word about the initiative by potentially reaching more people faster than ever; online advocacy raises awareness, educates people about new topics, and encourages the community to push for change. It also helps to contact, inform, and mobilize concerned people around an issue or cause, galvanize supporters to take action, promote the cause and connect with supporters.
She then shared that, as leveraging digital media keeps expanding, organizations must equip their workforce with the necessary skills to be applied when implementing their digital media strategic plan. Ms. Shams pointed out content creation, curation and visualization, online community management, and digital skills as the on-demand skills individuals within organizations must-have to effectively implement their digital plans.
She finalized her delivery by sharing that organizations need to plan and set strategic goals before they embark on digital media engagements. These plans should include a brief of what they want to achieve by going digital, where the message they want to deliver, whom they want to reach, how their plan will be implemented, and how they will implement the success of their digital initiative.
During the CSO Week Tech & Media Convergency (TMC) also coordinated another session, with the thematic theme, "Emerging Technologies to promote Civic and Community Engagement for Social Impact: What needs to be done?", all efforts directed at enhancing Digital Transformation for NGOs.