Propelling for Digital Adaptation and Transformation at the CSO Week 2022
A group of about 28 organizations, led by FCS are organizing the CSO Week to be conducted from 24th to 29th October 2022 in Arusha. The week is a platform for comprehensive engagement, especially among CSOs, and between CSOs, government and the private sector. This year's event is the fourth in a series of similar events held in 2018, 2019 and 2021 and it will be under the theme "People's Development, People's Stories". The event is expected to bring together about 500 leaders of CSOs from Mainland Tanzania, Zanzibar and East Africa. Tech & Media Convergency (TMC) has been fortunate to be among the group of 28 organizations organizing the week being inspired by its participation the first time it participated in 2021 when it happened in Dodoma facilitating at a clinic with session "Adopting Digitalization for CSOs".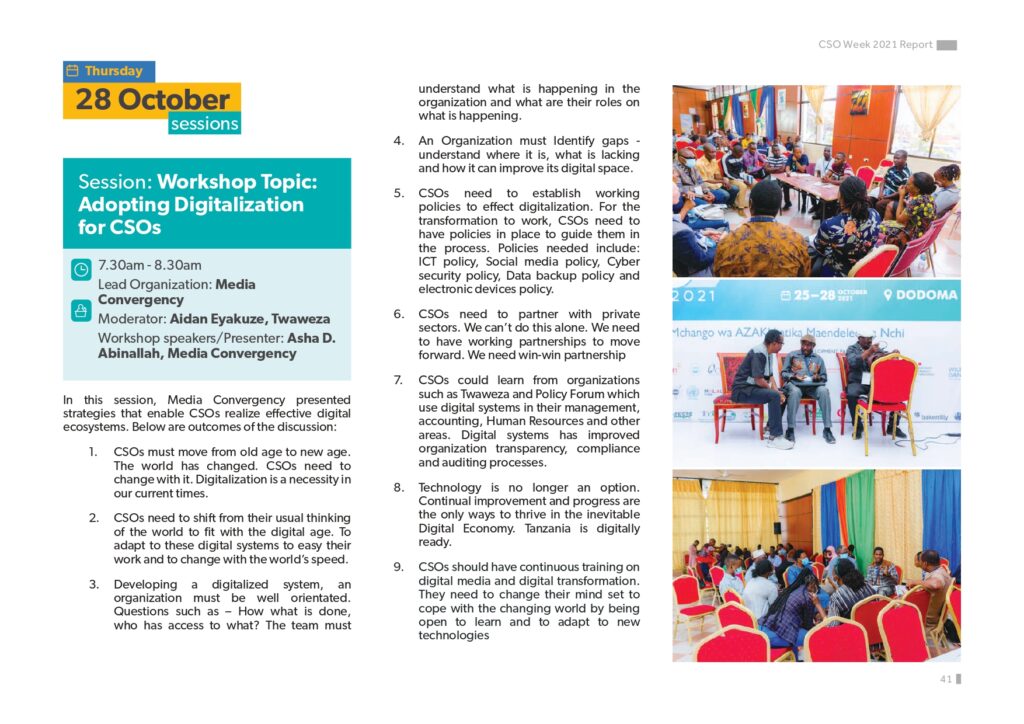 Tech & Media Convergency (TMC) believe that people's development and people's stories are the key pillars in building national development, and it makes us proud to be involved in this partnership in the interest of steering the national development agenda through our role as advocates for Digital Transformation and Adaptation. Technology enabled platforms and approaches are the new and most effective way to reaching the overall goal of this year's CSO week theme.  We stand by the belief that digitization is a multi-sectoral initiative that calls upon all players to participate fully in the journey. It's more efficient, secure, effective, and impactful and it is the future of all CSOs that want to go in pace with the global development of Digital Transformation. Technology is no longer an option. Continual improvement and progress are the only ways to thrive in the inevitable Digital Economy. Tanzania is Digitally ready. It has the capacity, competence, appetite, and the right environment.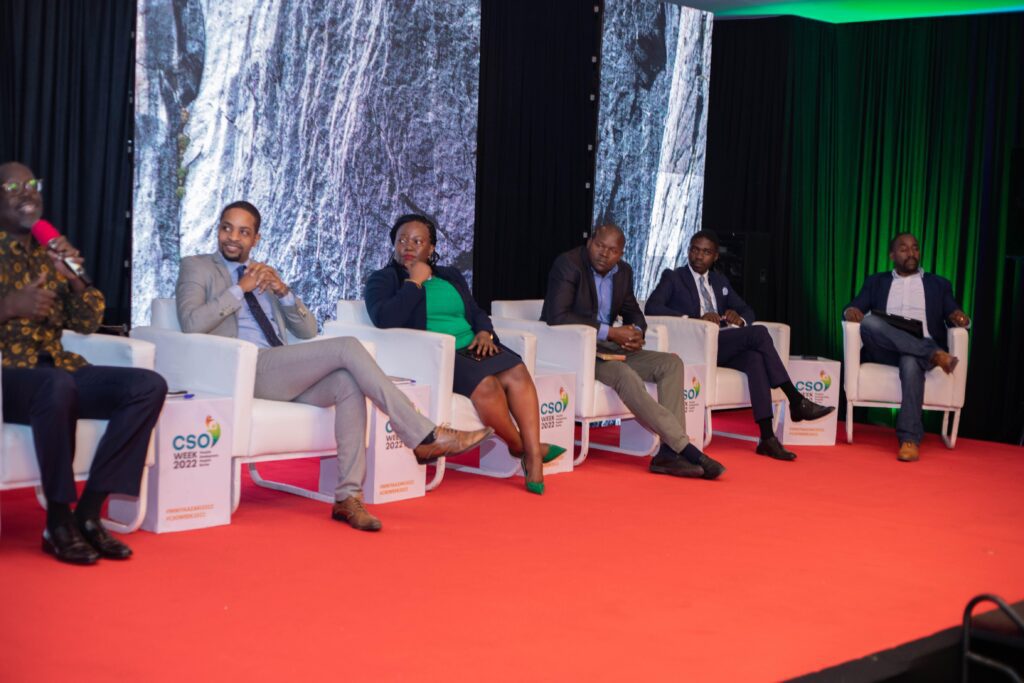 To get a taste of what to expect from the CSO Week there was a panel discussion with topic People's Development, People's Stories: From Development Challenges to Stories of Change". These speakers were a representation of the CSOs, private sector, youth, government practitioner and researcher. What came out most from the discussion was a need for intentional exchange experiences and knowledge; a cross learning approach to reach an accord, celebrate success, add more efforts in reaching all groups in the society (with emphasis on persons with disability) so as to bridge gaps and foster national development, unity and inclusive participation in Tanzania.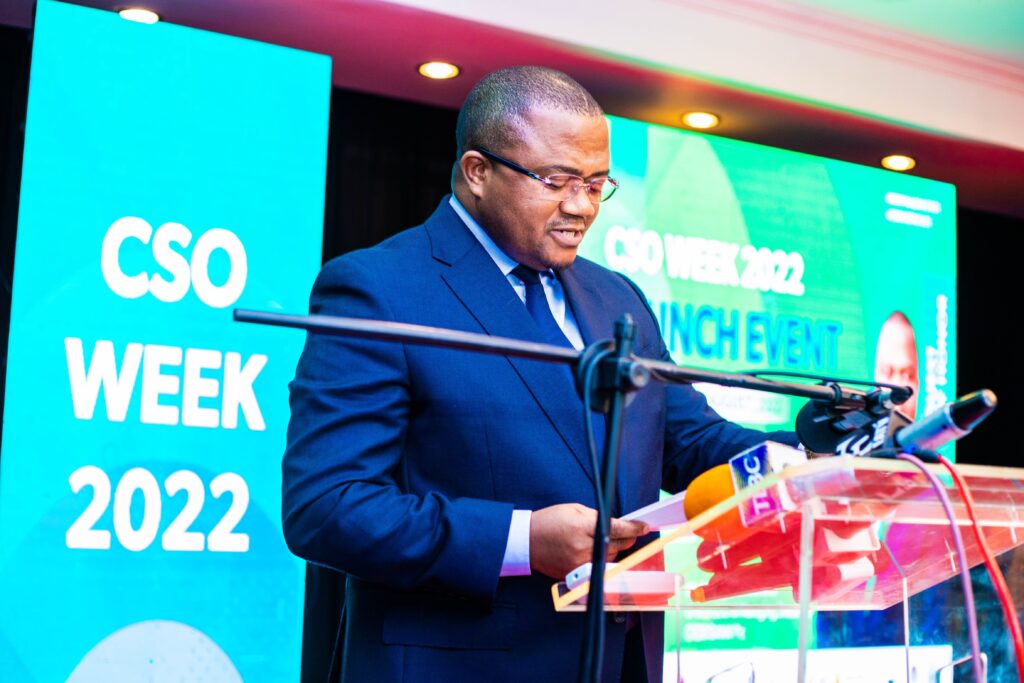 Delivering his opening remarks at the launch, the guest of honour Mr. Abdulmajid Nsekela, The Group CEO and Managing Director at CRDB Bank Plc., shared that the solutions to the challenges that face the CSOs needs to be collaborative and can't be successful if there is no strategic relationship between the community, the private, public sector, and the community. He insisted that there is a need to have strategic plans that will pull in investors especially from the private sector.
Mr. Francis Kiwanga, the Executive Director of the Foundation for Civil Societies (FCS), delivered a vote of thanks and closing remarks. He shared that as Facilitators of the CSO week, they want to create a platform that brings together CSOs, public and private sectors, and development partners to not only celebrate the successes but also to learn from one another towards contributing to the national development plan efforts.
Objectives for Tech & Media Convergency (TMC) engagement in the CSO Week
To influence mindset and foster conversations on absolute digitization adjoining digitally-enabled technologies and digital transformation for the CSO community through a holistic approach so as to speed up the digital journey through informed decision-making.
Provide an overview of the state of digital ecosystem for the CSO community in Tanzania.
Explore and identify challenges and opportunities which comes with digital adaptation for CSOs.
Collaborative approach with other civil society organization, private sectors, development partners, actors and community.
These objectives has been made possible and fueled by Tech & Media Convergency (TMC)'s partnership with Meta at the Digital NGO Project through their Meta's programs that support the non-profit and social impact sector across the SSA region with programming to help them learn to scale the impact of their work via the use of Meta's platforms and leveraging on digital technologies. A series fo programs for non profits have also been implemented in Nigeria and South Africa through a series of engagements including training, listening sessions and workshops for non-profit organizations. Meta further aims to build social value, connect with more allies and ensure their platforms are being used as a force for good, an agenda which fit in alignment with Tech & Media Convergency (TMC) as an advocate for Digital Transformation and Adaptation.
About the CSO Week
Civil society organization week is the largest gathering of civil society organizations in Tanzania, it was officially launched on 2018 with the aim of bringing together civil society organizations, to reflect the yeast and steering  national development agenda forward and that makes it easy for the government, stakeholders and other practitioners to acknowledge, The theme for 2022 underscores that the people are the most integral constituency, partners, and reason for existing and critical reflection on many approaches, systems, and processes used by CSOs to address the development challenges that Tanzania confronts, The CSO community has been a teaching opportunity, providing meaningful and real-world opportunities to engage in high-level deliberative debates and dialogue in bringing together a critical mass of relevant actors to work collaborative and strategically through an open inclusive participatory process, interact with hundreds of civil society organization on Tanzania's development; this reaffirms commitment to transformative change and leading by example.
Tech & Media Convergency (TMC) feels indebted to the committee for being accepted as part of the organisers by putting faith in us and trusting us enough to be accepted as partners.  We are ready to work and give our all with enthusiasm, towards pushing the digital agenda and national development as whole.