Tech & Media Convergency (TMC) join forces with the Stop NCII Initiative in Partnership with UK Revenge Porn Helpline and Meta
As a result of ongoing initiatives done by META since 2017, they have announced new tools to help people when intimate images are shared on Facebook without their permission. When this content is reported to us, they can now prevent it from being shared on Facebook, Messenger and Instagram. This is one step to help people who fear an intimate image will be shared without their consent. It's demeaning and devastating when someone's intimate images are shared without their permission, and we want to do everything we can to help victims of this abuse.
We are proud to join the StopNCII.org initiative in partnership with the UK Revenge Porn Helpline and Meta to provide people in Sub-Saharan Africa with an accessible platform to combat the sharing of sexual images online without consent. The proliferation of non-consensual intimate images causes tremendous harm, but due to a variety of factors, victims may find it distressing to report. This comes after a series of communication from META reaching out to stakeholders exploring on the ways they could scale up their NCII (non-consensual intimate images) pilot, make it more accessible globally and strengthen the safety, privacy, and security for victims.  We had also discussed part of this in the Sub-Saharan Africa Women's Rights Working Group. The group was convened by the Africa Human Rights Team in Facebook Africa and the Middle East and Turkey (AMET) Policy division. The group is part of their work to strengthen dialogues to support Women Rights Online.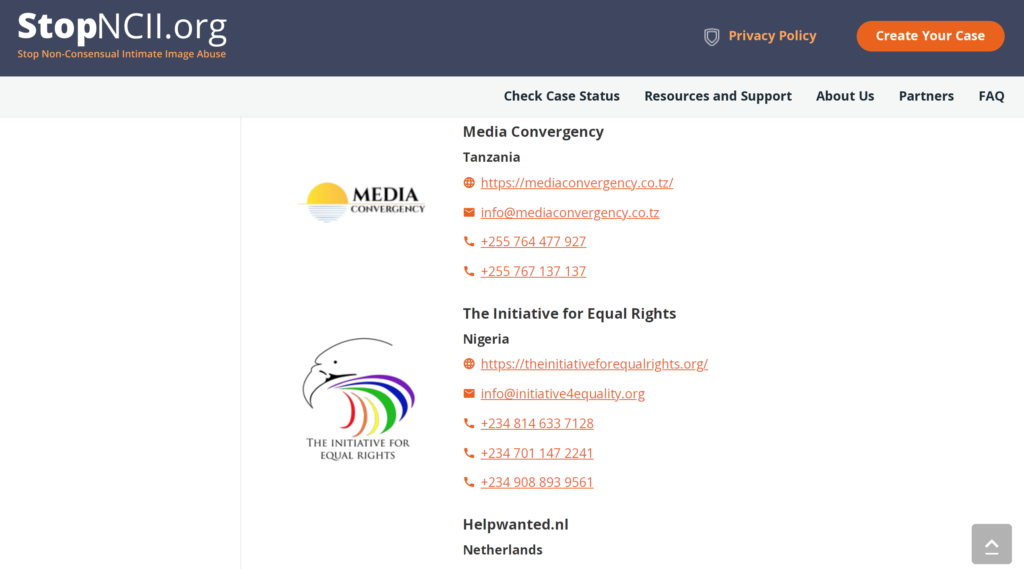 Tech & Media Convergency (TMC) among the global partners and one of the first Tanzanian
based organisation to partner on the Stop NCII Initiative
StopNCII.org aims to empower victims by giving them a secure tool to proactively identify this content where it lives online. We are committed to playing our part to ensure the online safety and privacy of every victim in Sub-Saharan Africa.
Built with Meta's expert guidance and funding, in collaboration with over 50 global NGO partners, experts and victim advocates, the UK Revenge Porn Helpline is launching StopNCII.org to combat the spread of non-consensual intimate images (NCII). StopNCII.org has been built with safety, security and privacy at the forefront of every step of the process. The platform uses technology that hashes images and videos directly on a person's device, so those images or videos never have to leave a person's possession. This platform is the first of its kind to detect NCII by providing people more control and privacy.
Through StopNCII.org, people can;

Proactively prevent their NCII from existing on participating tech platforms;

Keep control of their NCII on their own devices;
Track their cases in real time;
Withdraw their cases at any time.
The platform is available to people worldwide, as StopNCII.org has partnered with more than 50 global organizations supporting victims of NCII. StopNCII.org builds on Facebook and Instagram's work over the last several years to proactively stop the proliferation of non-consensual intimate imagery from our platforms. This new platform offers people a secure and private tool to proactively stop the proliferation of their non-consensually shared images online, empowering victims during an often difficult and seemingly uncontrollable situation. 

Tech & Media Convergency (TMC) is devoted through it's comprehensive Women at Web Tanzania project at enhancing women participation online and advocating against online gender-based violence in the country as part of the solution of addressing the gender-digital divide. One of the biggest challenges of most women and young girls face is having their images with associated challenges such as blackmailing from the perpetrators. The Stop NCII initiative will solve most of those challenges.
To learn more, visit StopNCII.org
———–
Asha D. Abinallah
CEO | Tech & Media Convergency (TMC)