Advocating towards Digital Transformation for NGOs in Tanzania
One cannot speak of a digitised Tanzania without mentioning reformation of its operating systems in public and private sectors, for they are a great part of attaining the national Digital Economy which is inevitable for the global fourth industrial revolution. Digitisation is not only about tech related sectors, with the world going digital it is inevitable for Tanzania to apply technological innovations. According to a report conducted by Tech & Media Convergency (TMC) titled, "An overview of Digital Ecosystem, Emerging and Applied Technologies on NGOs in Tanzania" says out of selected samples NGOs, only five percent (5%) of the NGOs have been entirely digitised.
Tech & Media Convergency (TMC) through META's "Social Impact Programming for Sub-Saharan Africa (SSA)" conducted a pilot project with the overall goal for to enhance an active, inclusive and supportive online community for NGOs while boosting them for digital adaptation in organisations operations and programs. The intensive digital transformation training took three days consecutively, on the 15th, 16th and 17th of December 2021 to a total of thirty-seven organisations. All the virtual activities were conducted in collaboration with WYLDE International from Kenya. META identifies that Sub-saharan Africa, has historically had a limitation of engagement, support and periodic one-off engagements with the social impact sector. They aim to work very closely with the social impact sector across sub saharan Africa to help them learn to scale the impact of their work via the use of our platforms, and thus the partnership with Tech & Media Convergency (TMC).
Why the training
Lack of digital skills to developing countries is one of the causes of technological gap to various developmental sectors, it is with this thought in mind that Tech & Media Convergency (TMC), an advocate for Digital Transformation and Adaptation in Tanzania has partnered with Meta to conduct a free digital transformation program for effective management of social media pages to different Non-Profit Organizations in Tanzania with the following objectives;
One, to influence mindset and foster conversations on absolute digitization adjoining digitally-enabled technologies and digital transformation for the CSO community through a holistic approach so as to speed up the digital journey through informed decision-making that will enhance programs and project impact while observing value-for-money, operational efficiency and effectiveness.
Two, to provide an overview of the state of digital ecosystem for the CSO community in Tanzania.
Three, to explore and identify challenges and opportunities which comes with digital adaptation for NGOs as well as provide the best way forward in tacking these challenges.
The thematic areas touched upon where a foundation of setting up a page and the features that a page has, Ad Policies for content, creative and targeting. Advance features Learn about Instagram, Messenger, Ads management, measure performance and advance features. Throughout the training the participants first, shared their experience and recommendations awakening an awareness in addressing the digital gaps through handling their social media pages. The trainees also created a fundamental/basic foundation knowledge for organisations to utilize their engagement and better manage their Social Media Pages. And finally, the participants were provided with fundamental knowledge in having and creating a more secure, beneficial and presentable Social Media pages of all the participants' organisations.
There is a thirst and need of more programs focusing on NGOs for Digital Transformation and Adaptation. In a span of seven days for a call of application, we were able to get fifty organisations to apply for the program although we were only able to train thirty seven of them.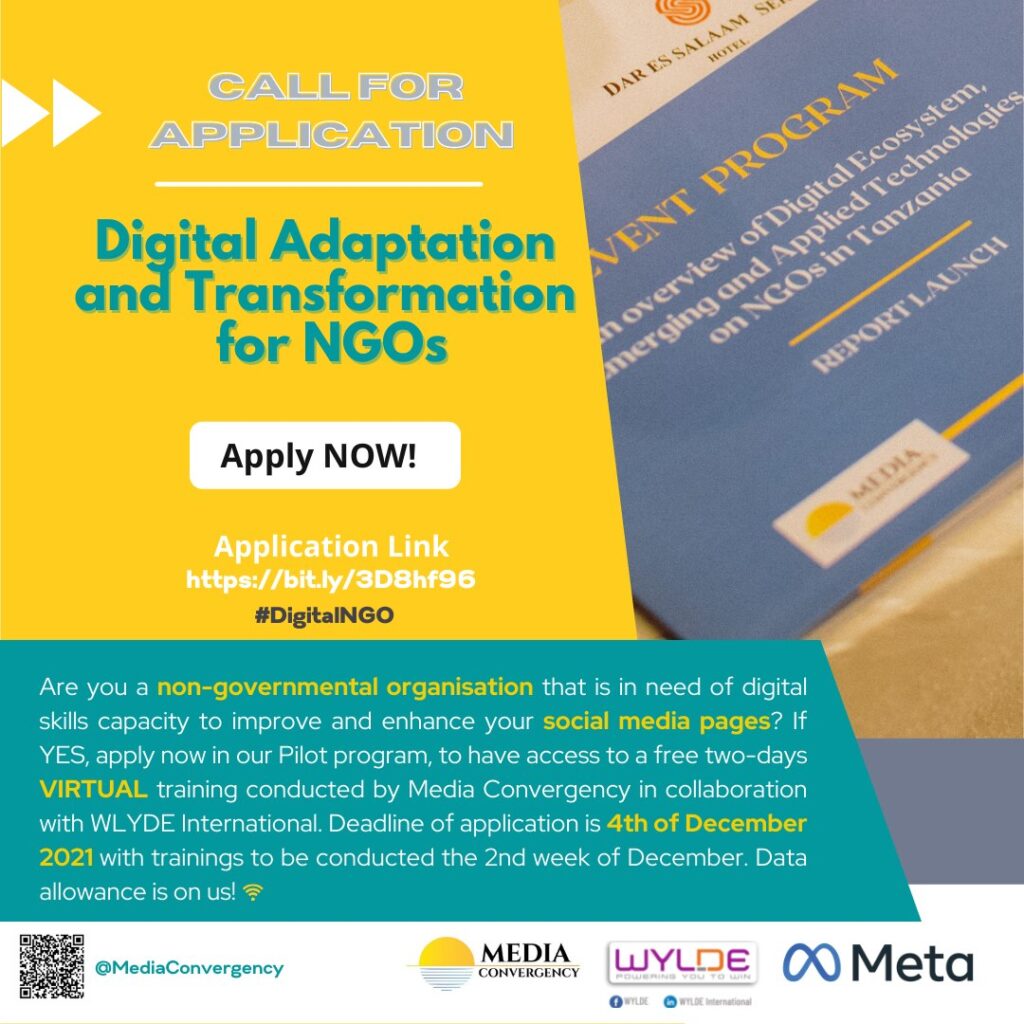 Embracing Digital Transformation for NGOs
It is an ongoing progress for NGOs to fully adapt to digitisation, Member of the parliament, Hon. Neema Lugangira highlighted on embracing digital system by saying, "There is a notion that larger institutions are the ones that should embrace digital systems and applications, whilst in reality all institutions need to adapt to digital no matter the level of organization – I can attest that Agri Thamani has been a beneficiary of embracing Digital Transformation"
There have been NGO's that have benefited with Digital Transformation while providing impactful digital solutions, one of them being, Twaweza a citizen-centered initiative, focusing on a large-scale change in East Africa, Risha Chande the director of advocacy and engagement at TWAWEZA says, "Using the Digital Systems has greatly supported institutional accountability and transparency for TWAWEZA, in order to change the mindset, there is a need to change people's behaviors by considering capacity, motivation and opportunities"
To spearhead digital transformation and adaptation, Tech & Media Convergency (TMC) has devised a Digital System Audit. This Digital Integration tool aids to determine the entity's level of competency. We have identified and categorised digital adaptation competency into three levels of Digital Integration. The general long-term goal of Digital System Audits is to ensure that adequate, reliable and up to-date digital controls are in place for the integration, security and efficiency of information and operational procedures.
Tanzania as a country is making progress in adopting technological innovations in its operations yet there is still a challenge in creating an inclusive digital community, there is a need to call upon the government and development partners who will help in enhancing and embracing digital skills while providing digital literacy trainings or courses to different marginalised groups
Deliberate efforts by the government of Tanzania for Digital Adaptation
The Ministry of Information, Communication and Information technology has been tasked by the government on broadband coverage; by 2025 to make sure that 80% of this country is covered by broadband backbone. They have managed to get to all regions and by this year, want to make sure that we get to all districts.
Also, the ministry mid last year had announced a new tender covering the boarding areas ensuring that people do not use communications from neighboring countries rather these communication channels are to be secured that people will be able to have access of communications from the Tanzania side.
Another most significant move by the Ministry is Digitisation of different government run entities and investments on ICT, also fuelled by the investment made early last year by the World Bank of about US$150M to promote digital transformation in Tanzania aiming at the Digital Ecosystem, Digital Connectivity and Digital Platforms.
For more information about our Digital NGO project you can access the following links and follow our hashtag #DigitalNGO across social media platforms of Youtube, LinkedIn, Twitter, Facebook and Instagram.