Promoting Impact Tech | Spotlight on Bizy Tech Ltd
Kilimo Data Hub is a cloud-based platform that provides smallholder farmers with information and tools to improve their farming practices and connect them with markets. It offers services such as crop disease diagnosis, weather forecasting, market prices, and financial services. The platform is available in both English and Swahili and can be accessed via mobile phones and the web. In 2015, Mahmoud Shoo founded Bizy Tech Ltd, an ICT and Agri-fintech company that offers an all-encompassing platform service using computers, smartphones, and USSD mobile technology. This empowers a marketplace and enables farmers and small businesses both domestically and internationally to manage their commercial activities. In 2017, Bizy Tech launched their primary product, Kilimo Data Hub.
Inspiration behind
Mahmoud Shoo is passionate about using technology to transform the agriculture sector in Tanzania and beyond. He believes that technology can help smallholder farmers to increase their productivity, reduce post-harvest losses, and access markets more easily. He also advocates for the use of data to inform policy-making and improve the overall performance of the agriculture sector. Mahmoud explained that he began his career as a business consultant with Bizy Consult. He realized during this time that most small businesses face similar operational challenges. He said these difficulties stemmed primarily from the manual tracking and recording of these businesses' operations, including financial and accounting information, business process information, and client information. He added that to those who were at least automating their businesses, most only automated accounting processes, which still used imported accounting systems; however, most of them did not serve the purpose because they had features that most small businesses, particularly in the Tanzanian environment did not have us of it.
Mahmoud started speaking to people and firms on how they can develop business management systems with easy customization, with simple features that can be used by a small Tanzanian business but also be available at an affordable price. "The systems that I first developed had encountered many challenges, the main being that I outsourced developers, so they had their jobs to take care of, so it was difficult to bring them in when I needed them unless they were free." Explained Mahmoud. "To take care of the challenge, I was able to recruit four university graduates, walk them through the concept, and come to terms with how we could collaborate. I did not have much capital, so paying them was a challenge, but after sitting with them and explaining the idea, we agreed that since I could not pay them, we could utilize the equity mode as I would like to work with them for the next five-ten years. So, I gave them stock in the company, and from there, we began the transformational work," Mahmoud explained.
Bridging the Gap
Mahmoud shared that they are working to help farmers increase productivity while reducing operations costs in the agricultural sector. "The primary challenge is productivity to most Tanzanian farmers, so we wanted to work on that. So, we designed a platform that will link farmers and potential partners who can work together to take care of the said challenges," he explained. In the Transport and Logistics sector, Mahmoud explained that there is a challenge in the transportation business regarding efficiency. He shares that they have designed a platform called "Logistics Partner," which helps manage all transport operations from workshop management, to fuel, and finance management, only to mention a few.
He also shared that they have designed a platform that helps construction personnel to digitally manage construction data, including inventory management, which makes it easy to see projects, and a merchant management platform for hotels, which helps digitally manage hotel operations. Mahmoud explained that they had a challenge in raising funding capital for the business, so he decided to sell some of his assets, which helped them raise at least forty (40) Tanzanian shillings. The money collected was critical in buying office assets and conducting pilot studies for their products. "We have established ourselves in the market and created a strong paying customer base. We also have worked with different organizations, including the MasterCard Foundation and the Government, who have supported the development of our systems. It has been transformative," he added.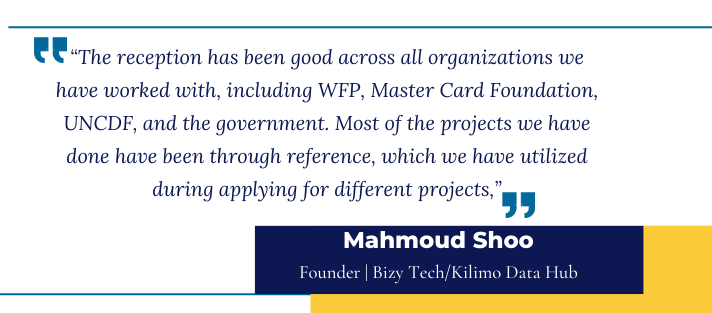 The business process
target customers are based on the sector they operate in; he explains that they target small to large customers who might benefit from their platforms. Mahmoud shared that they have several departments that do different activities seeing the business grow. "We have four departments; the platform and infrastructures department, which supervises platforms development; and business and product development, which researches and price packaging the platforms we develop. The other two are the finance and administration department," explained Mahmoud. Bizy Tech has utilized traditional and digital marketing modes to reach and deliver services to its customers.
Competitive Advantage
Mahmoud acknowledges that the market for operations management platforms is highly competitive, with many service providers offering similar products and services. However, he emphasizes that Bizy Tech is committed to delivering superior services on time, and providing excellent customer support to its clients. He also mentions that the company offers a competitive pricing package, which he believes helps to attract more customers to their product.
By focusing on these aspects, Bizy Tech aims to stand out from its competitors and provide a high-quality product that meets the needs of its customers.. "We have resolved to deliver superior services on time. We have made sure that we are always there whenever our customers need support on our products, and we also offer a competitive pricing package that attracts more customers," he explained.
Navigation of the Ecosystem and Positioning
Mahmoud highlights that trust is a crucial challenge for Tanzanian-developed technological solutions. To overcome this, he and his team at Bizy Tech Ltd are focused on developing superior products that not only attract customers but also help address community challenges. Through their dedication to providing excellent services on time and offering competitive pricing packages, they have built trust and established positive relationships with organizations like WFP, Master Card Foundation, UNCDF, and the government. The success of their projects has led to positive references that they have utilized to secure new project opportunities, further solidifying their reputation and trust in the market.
"The reception has been good across all organizations we have worked with, including WFP, Master Card Foundation, UNCDF, and the government. Most of the projects we have done have been through reference, which we have utilized during applying for different projects," explained Mahmoud.
Achievements and Challenges
Mahmoud shared that the most significant challenge they faced was financing the business, and the other was technologies. He explains that since they started with fresh graduates, they had to invest more in consultancies so that they can be able to develop expertise and learn new and emerging technologies. One thing that Bizy Tech is proud of is the ability to retain its talented employees; "honestly speaking, unlike other startups, we did not have employees turnover; most of the people that we started with are still working here, which makes it easier for us to know what is not working in a snap since we have been together for some time now," explained Mahmoud.
"Being able to stay afloat and operational is the most significant achievement. Other notable achievements include working with some big organizations, from four people to creating sixteen employments, from zero revenue to a turnover of over 300,000 USD yearly. We have also managed to acquire assets averaging 80,000 USD," shared Mahmoud.
The future
Mahmoud emphasized the importance of staying updated in the fast-paced technology and innovation sector. He mentioned that his company is committed to constantly improving their skills and adopting new technologies through consultancies. To expand their operations, they are also planning to transform their marketing approach. Bizy Tech's long-term goal is to develop a comprehensive platform where users can manage their operations, finances, and other aspects of their businesses all in one place. They plan to achieve this through their financial switch feature, which will automate and streamline financial management for their users. By providing a one-stop-shop solution, Bizy Tech hopes to continue making a positive impact on their community.
"We have resolved to consultancies in developing skills and adopting new technologies," he explained. He and his team are also looking forward to transforming their marketing approach, which will help expand their operations. Bizy Tech's long-term goal is to design a system that will enable users to have all the items in a single platform. This platform will not only allow users to track their operations but also be able to track their finances through our financial switch feature and have everything automated.
Final word
Mahmoud shared that believing in your idea is the key to developing a market take-over business. He insists on being consistent and honest as you build a product and the brand you want to take to the market. "Most importantly, think of how you are going to develop a strong team; it might not be at the start, but as you go, think of whom you are going to work with in the future and how beneficial the business can be to them and how they can be to you.
To read more about our reports featuring Startups in Tanzania https://bit.ly/ImpactTechTZ2021-Report and http://bit.ly/TECHTZ2022