Promoting Impact Tech | Spotlight on Samaki Farms
Arnold Amon Shoko serves as a fisheries scientist and is also the CEO and Co-founder of an agri-tech company called Samaki Farms, which is in the process of renaming to "Lima" in the future. The company specializes in producing alternative protein feed ingredients for fish feed, as well as organic manure. They achieve this by utilizing organic waste gathered from households, markets, and landfills.
The Inspiration behind
According to Arnold, the business was founded due to his consulting work with fish farmers while he was still in university. Arnold says this was after he realized there was a sizable market for fish farming in the nation. He explains that through the consultation services, he and his colleagues discovered that low fish yields and financial returns are caused by the market-supplied feed, which is less nutrient- dense and more expensive due to the mix's various ingredients and fillers. Scaling the market and its potential.
Arnold explains that they decided to research and find ways to lower the production and operating costs, which later landed them in producing alternative protein fish ingredients. From the idea of delivering alternative proteins for fish farmers, Arnold and the team shifted their focus to revolutionizing the agricultural sector using technology. "We now target livestock keepers providing them with affordable alternative livestock feeds and agriculturists offering them affordable organic manure." Added Arnold.
Investment in Samaki Farms
Arnold shares that investment or fundraising is always difficult for startups in Tanzania and other parts of Africa since most investors want to see your business's revenue traction before putting in their money. "So, the business started from 100% bootstrapping, and after setting the model, we started to apply for grants, which we have received some, which has been vital in our business process. All we needed during the start was to trust their idea, commit our efforts and skills to see things work and take the necessary risks, which helped us set up the business to the point they are today. He goes on to say that the investment process has never been easy.
He explains that even though investors exist, obstacles such as the need for consistent revenue traction over time prevent them from investing in startup businesses. "To be honest, the doors are now opening, and investors are beginning to understand the situation; however, before you get there, bootstrap to reach more customers and create the traction that will help attract larger investments." He added.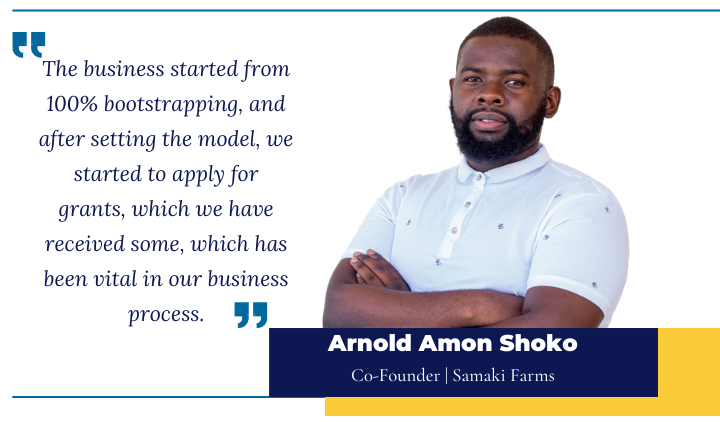 The business process
Arnold explains they have two products: alternative livestock feed and organic manure. He explains that they have two delivery models: 'production per order,' in which clients call and request production of a certain quantity, then they work on it, and 'call for order,' in which clients call to inquire about the availability of the products they require, and upon price agreement, they deliver. "The two models have proven effective, but we can still not meet market demand." He added. Arnold explains that they are using organic waste, most of which comes from the household, "we have developed a system called BOKSI HAI, which is a waste collection box that we provide to households, and a few of them have already been delivered, and the feedback is wonderful," he explained.
Competitive Advantage
Arnold explains how Samaki Farms (Lima)'s competitive advantages dedicating on Agri-tech, specifically in sustainable agriculture and waste management. They are utilizing innovative technology to convert organic waste into alternative protein feed ingredients for fish feed and organic manure. The automation of their waste collection system is also an innovative technological solution that streamlines their operations and enhances their productivity. Overall, their efforts are geared towards creating a more sustainable agricultural ecosystem, which is a crucial area of innovation in today's world.
Arnold takes pride in his team's hard work and dedication at Samaki Farms (Lima). He states that their competitive edge lies in their expertise and knowledge, which has enabled them to discover the most efficient production methods, resulting in high-quality products that stand out in the market. To enhance their productivity further, they are currently working on automating their BOKSI HAI system. The system will notify them in real-time of the amount of waste collected, which is a transformative feature that will streamline their operations and improve their efficiency.'
Challenges and Achievements
Arnold explains that the challenge is finding the right people to work with. He shares that the tricky part is that you develop the idea yourself and start looking for people into whom you have to inflict your concept and work together to see it becoming the real product. Other than that, other challenges are cross-cutting issues, which cuts across management, operations, and finance. Although, finance is always on top since if you do not have enough finance, you can not secure the right talents or have the right machines and processes to facilitate your operations. "Despite numerous challenges that we are going through, being able to set up the facility and have it produce and supply some products to the market is something that I wake up every morning thinking of and go to bed smiling about." He added.
Future Perspective
Samaki Farm is currently seeking to expand his team by recruiting experienced employees who can bring added value to the company. He is particularly interested in production experts who possess expertise in insect and livestock farming, as they would make a significant contribution to the production team. Additionally, he is also looking to hire individuals with marketing experience to increase the company's reach to a broader audience. Arnold and his team have set a long-term goal of becoming the leading producers and suppliers of high-quality alternative livestock feed and organic manure in Tanzania and across Africa. By consistently providing top-notch products, they hope to stand out in the market and establish themselves as the go-to choice for sustainable agricultural solutions. "Honestly, there are no shortcuts to attaining your dreams," says Arnold. He elaborated that becoming an innovator sometimes means knocking on doors that you do not know someone will open for you, being consistent in your plans from the initial to execution stages, and believing that the process will always pay off.
To read more about our reports featuring Startups in Tanzania https://bit.ly/ImpactTechTZ2021-Report and http://bit.ly/TECHTZ2022