Promoting Impact Tech | Spotlight on Elimutube
Elimutube was co-founded by Daniel Mjinja, Hamza Kiuta, and Samuel Anderson. It is a mobile application-based online learning platform launched in 2020 to address Tanzania's educational challenges. It aims to create and provide learners in Tanzania with access to local, qualified, and credible educational learning resources via their mobile phones anytime and from any location. Elimutube employs the best, most experienced, reputable, and well-known teachers in Tanzania who have excelled in the subjects they teach to create and deliver high-quality educational learning resources to Tanzanian students via online notes, high-quality video tutorials, online timed exams, and online one-on-one quizzes.
Inspiration behind Elimuutube
"When I graduated from my form four studies in 2010, I began teaching at various schools and tuition centers while waiting for the exam results to come out. My passion went on even after graduating from my university; I was eager to see the education system transformed," said Daniel. He elaborated that he realized a massive challenge in the delivery system during his teaching times. "In 2012, 61% of students failed their final exams with division 0, and in 2021, 64% failed their final exams with division 4 and 0. After examining the root cause of failure, we discovered a lack of enough well-equipped teachers and teaching and learning resources," explained Daniel. He further shared that all these stats are to be kept in mind as a reminder that 80% of Tanzanian students attend public schools, most of whom parents cannot afford to buy textbooks. He shared that they thought about creating a platform to help students access quality materials and tutors after learning about the challenge. He explains that they evaluated similar ed-tech apps and discovered that obtaining high-quality academic content takes time. To address this, they created a digital solution that provides high-quality academic content online. Elimutube researched to find the best and most reputable teachers in Tanzania to provide them with high-quality academic content. When it was deemed successful, the content was made available on their platforms in classes ranging from forms 1 to 6.
Investment and business process
Daniel shared that they were bootstrapped using their savings since they were starting and on something new. They also collected capital and took loans from family and friends because their goal was to establish and make it visible before seeking funds. On the business process, the Elimutube app is available on Play Store; one has to download it, sign in to their google email, and select between ordinary Level (O-level) and advanced level (A-level). Categorizing O-Level subjects differs from A-level subjects because they are more based on combinations. Each category selected will show a list of subjects you would like to learn and exams. There are four payment packages, monthly for 2000 Tshs., three months for 5000 Tshs., Six months for 10,000 Tshs., and annually for 20,000 Tshs. Daniel says, "Most students pay monthly, the ones paying Annually in most cases are teachers, the payments are through mobile money, the app has more than 3000 past papers in the app."
Elimutube aims to create and provide top-quality educational learning resources for Tanzanian learners by focusing on students who are primary recipients of education and experienced, reputable teachers with exceptional performance in the subjects they teach. "We have notes and exam papers from form one to form six, and we are currently transitioning to primary school," he adds. "We also intend to create videos of teachers teaching".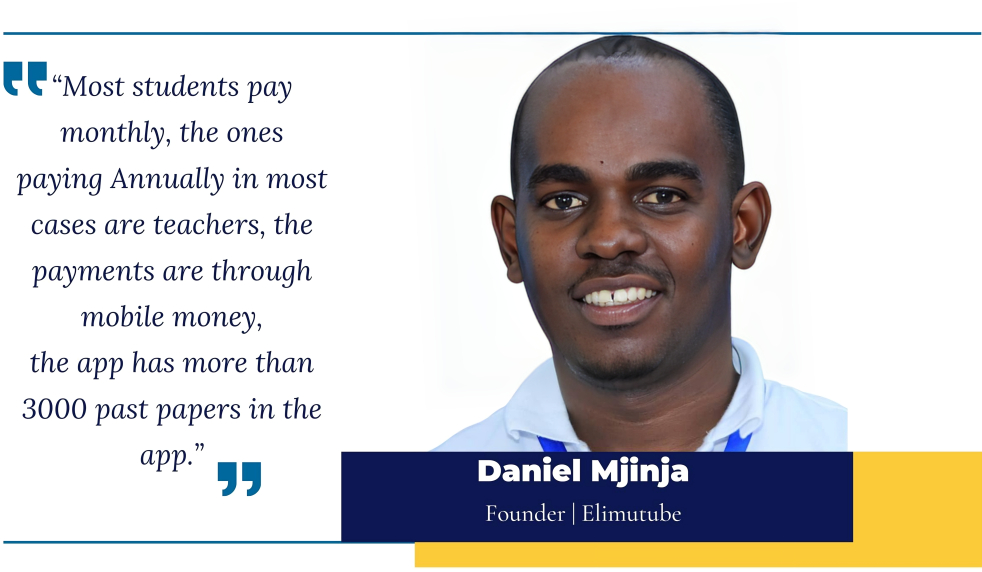 Accomplishments, Challenges and way forward
Daniel explained that despite having a small marketing budget, they had over 20,000 downloads since they started their operations. Positive responses from students and teachers (Testimonials) Despite not marketing our product as much as we would like, the impact is there; we have over 20,000 downloads in a year and a half. "Out of 12 companies, we won a competition among Tanzanian Ed-tech companies. "In 2021, we also had the opportunity to compete in the Seed Stars competition, where we finished second," Daniel says.
Daniel also explained that the most significant challenge they have faced is people's reluctance to adopt e-learning platforms. He shared that most parents still hesitate to let their children engage in digital education because they fear the unknown. However, we are now getting through that challenge as we have invested in raising awareness of the benefits of e-learning platforms. He further explained that funding is the other challenge that's over them. "We have many models that we wish to implement, but also bring in talents, but since we are still having a minus of finance on what we plan to do, some of these activities fail," elaborated Daniel.
Daniel stated that, despite being good in technical terms and how they prepare and organize their content, they still need to catch up when it comes to understanding things in business terms; as a result, they are currently seeking assistance in training and capacity building on business development issues. Elimutube aspires to have a strong marketing team and sufficient funds to accelerate its operations and activities. Elimutube's long-term goal is to ensure that every learner in Tanzania, both formal and informal, has access to learning materials that meet their needs, whether academic, farming, climate change, business, or entrepreneurship. "We also want to expand our operations to other countries, starting with East Africa, and reach a million users in three years," Daniel says.
Final thoughts
Daniel advices that "be value-driven rather than money-oriented" and further adds that "solve a challenge first while doing what you love, then money will come." it's important to focus on the value that it will bring to people and society, rather than just making money. By prioritizing the value you are creating, you will be more likely to create a product or service that truly meets the needs of your customers and has a positive impact on their lives. By solving a challenge that they are passionate about and being consistent in their understanding of the problem, they can create a product or service that will contribute to changing the lives of many people and the community.
To read more about our reports featuring Startups in Tanzania https://bit.ly/ImpactTechTZ2021-Report and http://bit.ly/TECHTZ2022