Promoting Impact Tech | Spotlight on Duchu Africa
Duchu Africa is a Tanzanian-based technology solutions company that was established in 2020 with the primary objective of promoting the growth of small businesses in rural areas. Domician Nelei and Elfrida Mobusega William are the company's co-founders, and their approach is to provide material loans for essential items such as smartphones and home solar systems. These loans are offered on a payment plan that spans between three to six months, depending on the items provided, with the primary focus being on providing access to clean energy and digital devices to low-income earners. This innovative approach aims to address the challenge of financial exclusion for rural businesses, which typically have limited access to credit facilities. With its unique focus on promoting clean energy adoption, Duchu Africa Ltd is making a significant impact on the growth of small businesses in Tanzania's rural areas.
The Inspiration behind Duchu Africa
Domician explained that in Tanzania, many villages have yet to be connected to the national electrical grid, so they rely on local methods such as kerosene lamps and charcoal in their daily lives, posing a significant challenge for those who live in those areas; climate change caused by extensive deforestation, being one of the challenges. Duchu Africa offers a sustainable solution by introducing a simple, affordable home solar system that can be purchased in installments. He further explains that, due to globalization, many people want to own mobile phones, especially smartphones, for communication. But since smartphones are expensive, it has been difficult for people who earn little to buy them. With Duchu Africa, these people can buy smartphones in an installment model. By providing these products, Duchu Africa helps address the issue of energy access and reduce the dependence on kerosene lamps, which have proven to be hazardous and harmful to their health and, of course, their environment. Also, help people access communication through a pay-as-you-go system.
Investing in Duchu Africa
According to Domician, Duchu Africa started with their own funding. They used their savings and experience of working with small businesses and communities to create a service that has become life-changing for many people. They have invested over 50 million to date in developing systems and conducting pilot studies in the communities they serve. The company's focus is to provide loans to low-income earners for items such as smartphones and home solar systems, with payments ranging from three to six months in installments. Their goal is to boost the growth of small businesses in rural areas by providing access to clean energy and digital devices. With their investment in systems and studies, they are continuously working towards improving and expanding their services to help more people in need.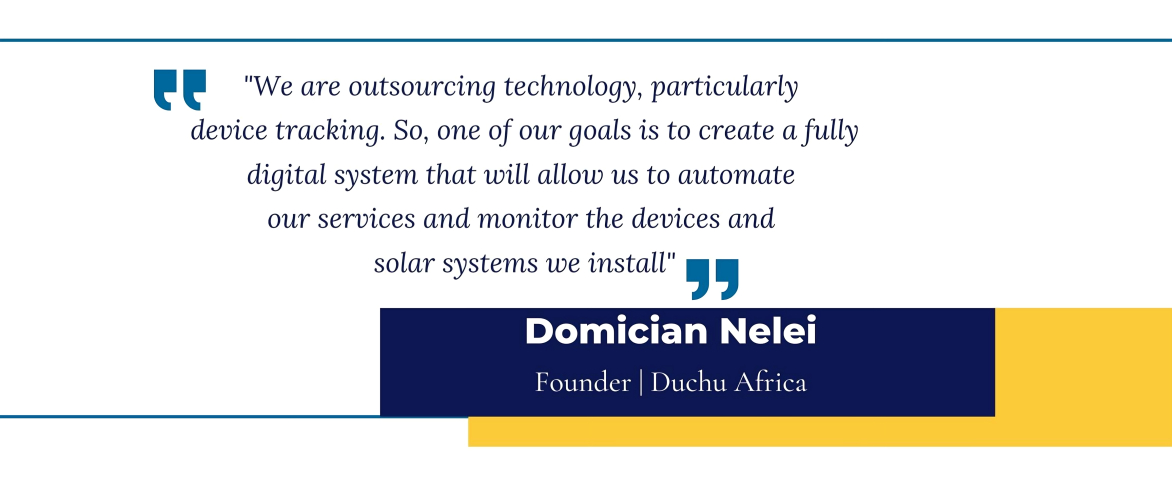 The business Process
Domician, explains the intricate process of providing digital devices to low-income earners. The company focuses on providing material loans for items such as smartphones and home solar systems, and they work with a customer verification process to ensure the financial reliability of their clients. The agents of Duchu Africa visit potential customers in villages to collect and verify their details, including their jobs or businesses, incomes, and addresses.
After the verification process, the customers make the first down payment, and depending on the cost of the device, they continue with the following installments. Once the agreed payment for the device is complete, the customer is given complete ownership of the product. Duchu Africa has also designed a system that is installed in the devices, especially smartphones, to track them. They have partnered with mobile phone suppliers such as Samsung, Tecno, and Infinix, who assist in tracking the phones and deactivating them when the customer has yet to pay the agreed amount within the specified period.
Competitive Advantage
Domician explained that D-Light, M-Kopa, and Sunking are among the companies providing similar services predominantly in the clean energy industry. He shares that despite these companies having 'huge' solar home solution is affordable compared to other companies, and many customers are from low-income villages. Moreover, the use of local agents who live in or are familiar with particular villages allows them to understand the actual situation of the people in those areas, which helps provide better services.
Achievements and Challenges
Duchu Africa's main challenge is to raise capital to fund the digital lock system, enable loan management, and track customer payment history. Although the company has secured the digital system, mobile payment agents have yet to reach most rural areas. Another issue is that the company employs third-party collection agents to collect payments. Nonetheless, they charge exorbitant fees, which have been challenging to manage and have caused them to lose customers.
Despite the difficulties, the company works around the clock to resolve these issues and ensure customer satisfaction. Duchu Africa had only two employees at the start of 2020. However, the company has grown significantly since then, employing more than 50 village agents who have been vital to the improved company's operations. Within two years of its inception, the company had delivered over 1000 devices. The funds raised by the company have been used to increase capital, purchase office equipment, and obtain motorcycles to help customers reach the villages.
Long term goals and final thoughts
Domician shared that the company seeks to secure more funding to improve its services and reach customers in other villages with increased marketing efforts. "As I previously stated, we are outsourcing technology, particularly device tracking. So, one of our goals is to create a fully digital system that will allow us to automate our services and monitor the devices and solar systems we install. This will help us keep track of our devices and will be critical in lowering the costs associated with importing technologies," Domician explained.
According to Domician, creativity is essential to becoming a successful entrepreneur. He believes that in order to be an effective innovator, one must cultivate a habit of continuous learning and stay up to date with the latest trends and developments in their field. This involves staying abreast of industry news, attending conferences and workshops, and seeking out new ideas and perspectives from peers and mentors. Domician emphasizes the importance of being able to adapt and pivot quickly in response to changes in the market and customer needs. He notes that entrepreneurs who are able to embrace new technologies and business models are more likely to succeed in today's fast-paced and rapidly evolving business landscape.
To read more about our reports featuring Startups in Tanzania https://bit.ly/ImpactTechTZ2021-Report and http://bit.ly/TECHTZ2022