Promoting Impact Tech | Spotlight on Lipa Fasta
Bryson John Laizer is a software engineer and entrepreneur who founded Lipa Fasta, a fintech startup that aims to transform payment systems through the use of NFC technology and blockchain. The startup focuses on processing microtransactions in a faster and more cost-effective way, making them easier to carry out both digitally and offline. Lipa Fasta targets small businesses that process microtransactions in the range of 100 to 5000 shillings. According to Bryson, mobile money operators and banks primarily handle medium and large transactions, leaving microtransactions with limited payment options. For instance, if one wants to pay for a 500-shilling ride on a local bus, using mobile money or bank cards is not always convenient since it requires numerous active processes to complete the transactions.
Therefore, Lipa Fasta seeks to simplify the payment process for microtransactions by developing an easy and efficient payment system. With Lipa Fasta, users can make payments quickly, even for small transactions, using NFC technology, which facilitates offline payment processing. By leveraging blockchain technology, the platform provides secure and transparent payment processing, which makes it more reliable than traditional payment methods. Overall, Lipa Fasta's innovative payment system has the potential to enhance the ease and convenience of payment processes for small transactions, thereby supporting small businesses and creating new opportunities for entrepreneurs.
Businesses face similar operational challenges. He said these difficulties stemmed primarily from the manual tracking and recording of these businesses operations, including financial and accounting information, business process information, and client information. He added that to those who were at least automating their businesses, most only automated accounting processes, which still used imported accounting systems; however, most of them did not serve the purpose because they had features that most small businesses, particularly in the Tanzanian environment did not have us of it. Mahmoud started speaking to people and firms on how they can develop business management systems with easy customization, with simple features that can be used by a small Tanzanian business but also be available at an affordable price. "The systems that I first developed had encountered many challenges, the main being that I outsourced developers, so they had their jobs to take care of, so it was difficult to bring them in when I needed them unless they were free." Explained Mahmoud. "To take care of the challenge, I was able to recruit four university graduates, walk them through the concept, and come to terms with how we could collaborate. I did not have much capital, so paying them was a challenge, but after sitting with
Investing in Lipafasta
Bryson shares that securing external investment can be a significant challenge, especially for startups that are still in the early stages. Lipa Fasta is currently self-funded, with the team relying on their personal savings, as well as contributions from family and friends.
Bryson's experience is not unique to Tanzania, as startups in many parts of the world struggle to secure external funding, particularly in the early stages. This is often because investors are risk-averse and are more likely to invest in established businesses with a proven track record of success. As a result, startups may need to explore alternative funding sources, such as grants, loans, or crowdfunding, to get their ideas off the ground. In some cases, self-funding may also be a viable option, particularly for entrepreneurs who are willing to invest their own resources to build their businesses.
The business process
Bryson shares that it is difficult to pay with mobile money in daladalas, but Lipa Fasta allows daladala conductors to receive fares from passengers. He explains that users must first buy a card or install a Lipa Fasta App. Bryson shares that users must purchase tokens through the app or Lipa Fasta's agents to use the card. Bryson explains that a customer has to buy the NFC cards, which they initially gave for free during the pilot test, and they can also download a mobile app.
"Since we are targeting users who use smartphones and feature phones, the user has to visit our Lipa Fasta agent or use a mobile app to buy the tokens for their Lipa Fasta card through NFC technology, making the process safe and secure. To make payments, the user has to tap the card on the POS device, and the amount to be paid will be deducted from the card," he added. He further explains that using NFC and Blockchain has made the system more secure and safe to use while synchronizing all users' activities, making the process irreversible and easy to trace. To withdraw money from your account, Bryson explains that using tokens makes it safer; thus, users who accept customer payments can visit Lipa Fasta's agents and withdraw their funds.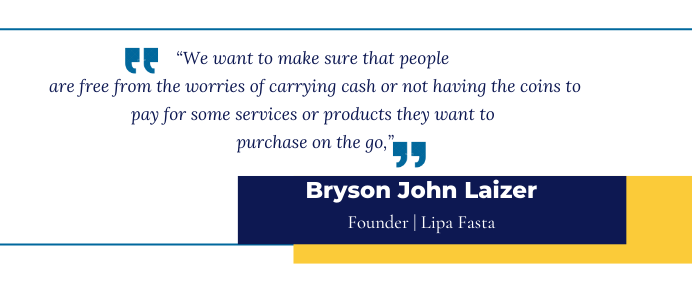 Competitive Advantage
Lipa Fasta's ability to cater to microtransactions and offer a reliable payment system offline gives it a competitive edge in the Tanzanian fintech market. Lipa Fasta, according to its founder Bryson Laizer, has several competitive advantages over other payment facilitation companies. Firstly, while many companies tend to focus on medium and bulk transactions, Lipa Fasta concentrates on small businesses processing microtransactions ranging from 100 to 5000 shillings. This has made it possible for the company to address a significant gap in the market that has not been fully served by traditional financial institutions or mobile money operators. Also, the Lipa Fasta payment system does not require an internet connection or GSMA connection to function. This makes it a reliable payment option, especially in areas with poor or limited network connectivity. The system utilizes NFC technology and blockchain to process microtransactions digitally and offline, making transactions faster, easier, and more cost-effective.
Achievements and Challenges
Bryson explains that one of the biggest challenges is that companies have different infrastructures and models of how they operate, which sometimes makes it difficult to make them understand what they are trying to do. He shares that the transactions policies and regulations have been challenging since they are in the payment processing services. They are still working on sorting out all the necessary needs before they can officially move on with their operations. He shares that the other challenge has been market acceptance. "People are used to cashing payments when it comes to microtransactions, so it has been a huge challenge to talk and convince them on how Lipa Fasta can easy they ways of transacting and help them on the." He added. "Being able to create a fully operational product, take it to the market and have people test it and share their feedback is the biggest achievement that my team and I are proud of today." Shared Bryson
Final thoughts
Bryson shares that creativity is always the key to developing something that positively impacts society and can make you cash. He highlights that the most significant challenge to most youth is that they copy things, but on the other hand, they need to remember to refine them into products that can impact the community in which they live.
To read more about our reports featuring Startups in Tanzania https://bit.ly/ImpactTechTZ2021-Report and http://bit.ly/TECHTZ2022