Promoting Impact Tech | Spotlighting on Aakvatech
Aakvatech is a tech company with a unique product customized to contextualize the solutions available in the world to the African region. Aakvatech focuses on Enterprise Resource Planning Next/business management software also known as (ERPNext) which helps in consolidating its data in one digital space The idea is to enable businesses of all scale and size to bring efficiency and transformation through effective technology. Aakvatech is run by a diverse team of Tanzanians who offer customized services to fulfill your business requirements helps What started as an idea in 2018, developed and its operations started in 2019. Aakvatech headquarters are in Viva Towers Dar es Salaam Tanzania. On a sit down with Media Convergency co-founder of Aakvatech Mr. Mitesh Choksi, shares on the inspiration behind, the gap they are bridging, challenges and successes encountered along the way and what would be the way forward for Aakvatech to thrive.
Bridging the Gap
Aakva Tech Solves the duplication of data. Companies in Tanzania have been running using various types of information systems which are disintegrated not allowing the business users and stakeholders to make use of systems that are easy and elaborate to consider all parts of the business. In most cases, companies use an accounting software but then have separate payroll software. Aakvatech brings all management software systems together that allow the reporting to be done in a manner that data that is been collected is accurate, useful for the current and the future. The amount of effort that goes in to run the software is reduced. Aakvatech also solves the disintegration of data by organizing them in one.
Investing in AAKVA Tech
The 3 directors of Aakvatech initially funded the company using their personal savings. They invested their time in pitching their software to potential clients, identifying the challenges they faced, and offering a solution. Their initial investment paid off and brought profit to the company. Aakvatech has since taken on the responsibility of moderating a worldwide support group, using open-source solutions to share their expertise and experiences with implementing the software in Tanzania. Despite not having external investors, Aakva Tech has worked closely with partners around the world who have provided support to make their solution useful for their customers.
Business Process
Aakvatech key business approach referral as they provide good and quality services to incoming and existing customers so as the customers can recommend them to other people they know or partners since Aakvatech does not do marketing and actives sales. Their approach has always been to work with business partners who support the company in the implementation, sales and functionality that is required for specific customers. Due to COVID-19 pandemic, Aakva tech adopted the system of interacting with its customers virtually he said "We have done a large-scale implementation to a client in Kenya and installed our software to their company through our solution, the client's company has been able to expand to other countries such as in Uganda, Nigeria and Tanzania and all the implementation was done through online interactions.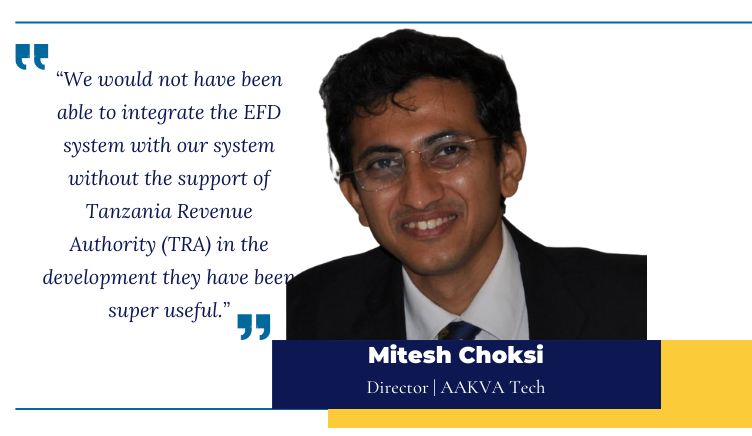 Positioning and Competitive Advantage
Mitesh pointed out that their product is highly unique and there is no other company in the country that offers something similar. However, they do not rest on their laurels and make sure to meet all the necessary requirements for organizations to manage their information systems effectively. For instance, their systems are integrated with the Tanzania Revenue Authority (TRA) to eliminate the need for Electronic Fiscal Devices (EFD) while using their software, giving them a competitive edge. He emphasized that the company creates customized solutions that are critical to the customer, ensuring that they have never been developed before. This is the reason why they do not need to do marketing as their open-source ERP software has proven to be extremely useful in achieving this advantage.
What differentiates them from rest is their operation models, interactivity with their customers and ensuring they deliver in time. In the Tanzanian eco-system Aakvatech is the first company that provides the ERPN software in the country this comes as an advantage since the company has been able to penetrate the market due the experience of the founding partners who have over 20 years of experience in the IT field. (Credibility) Solution given to customers which is workable.
Mitesh Explains working with other partners in the ecosystem has been crucial in implementing their work because the software that their implementing is a community based and therefore community-based thinking is engrained in their business approach. "It has been a pleasant experience working with other startups and companies in the ecosystem not just in Tanzania but around the world," Said Mitesh.
Future Perspective
Mitesh explained that Aakva Tech has been growing through baby steps and it is still growing where the company had customers who had faith on the company even without knowing the product which came from the capabilities that the directors demonstrated in the past. He explained that the company is proud to design solutions for big companies in the petroleum sector, property and all solution they designed were customized to each individual company using ERP Next.
The top assembling plant in Tanzania is using the system designed by Aakva Tech, many distribution and manufacturing companies in the country also rely on the system. The company has also grown from providing services from small-scale companies to large scale to the extent of posting 1000 invoices in a daily basis, they also provide services to large companies outside Tanzania that have operations in multiple countries.
To read more about our reports featuring Startups in Tanzania https://bit.ly/ImpactTechTZ2021-Report and http://bit.ly/TECHTZ2022