Promoting Impact Technology | Spotlight on iPF Softwares Tanzania
It is no secret that Africa is breaking technological barriers, raising tech-preneurs and growing vastly with the presence of startups that use digital applications.
IPF Software Tanzania is a full-fledged software development house focused on developing digital solutions for Africa. It is comprised with a team of software engineers, innovators and designers. IPF Software was founded in 2015 with three co-founders, Grayson Julius, Nelson Malekela and Jackson Twalipo, who are currently located at Kimara, Dar es salaam. One of the co-founders, Grayson Julius, sat down with Tech & Media Convergency (TMC) to share how they have been able to use technology in designing software that have impacted different startups.
The Inspiration Behind
Grayson's passion in the tech ecosystem began early on when he was in primary school, Grayson says, "I have a brother who I always look up to, I remember sharing my passion for gaming with him, I have always wanted to someday create a gaming software solutions which is one of my dreams that I still look forward to in achieving."
He adds, "My dad supported me, he made sure I get to study in different schools that taught ICT, years later I met two colleagues who later became my friends in the University of Dodoma, we were all studying programming and passionate about ICT."
"Soon, we came with the idea of creating our very own software that will carter for the needs of our client, looking back I can say the passion we had in providing digital solutions is what inspired us" he added.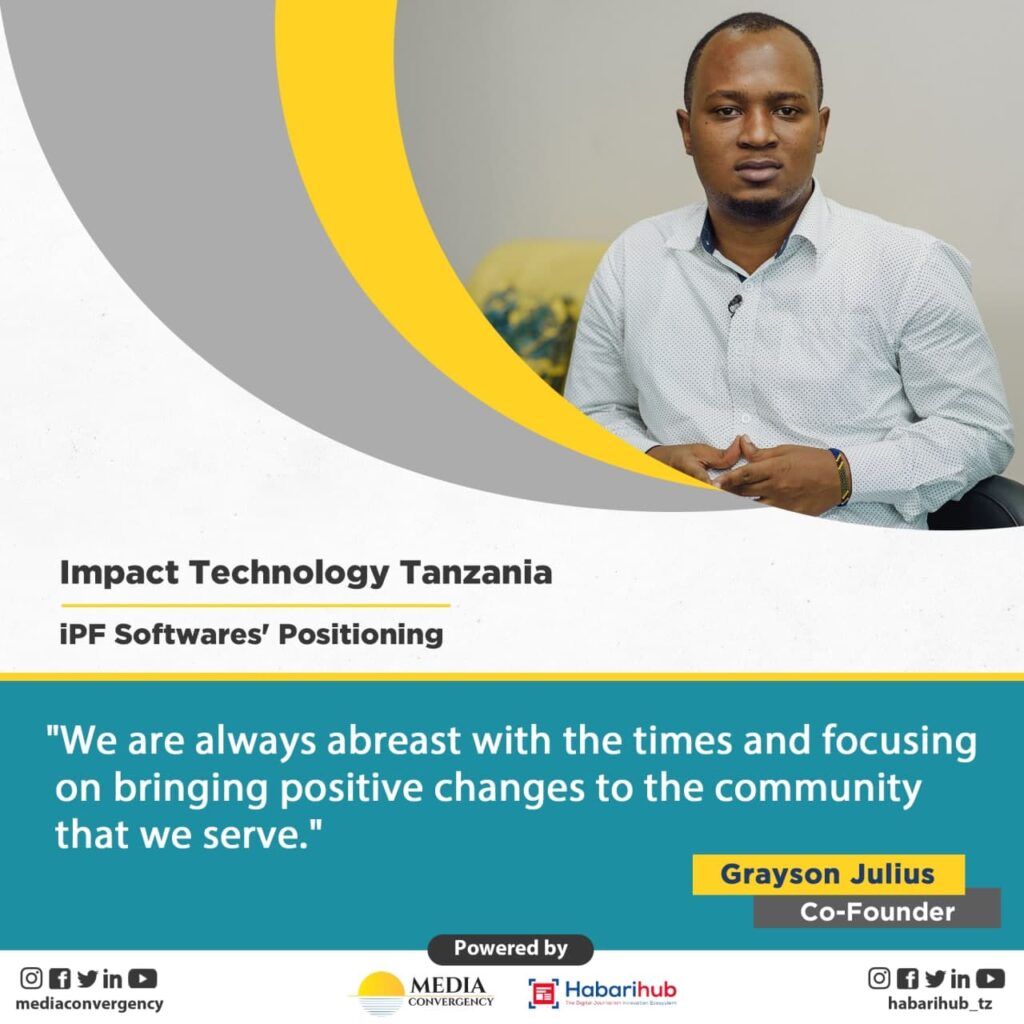 The iPF Software Product
While working to provide digital solutions to their clients, they decided to venture into making a product that is going to enable a user to get all current product price listings for forever products digitally. The product created is called Biashara Plus, it is an application where price listings for each product can be seen and accessed in 5 East African Countries.
With Biashara Plus, one can create their own product listings, with a view of total price and items listed, one can save a history of the product listed, send order email directly via the app and add delivery service options.
The Business Model
Grayson took us on how IPF software ventured in business, he says, "We had saved the little we had and combined our finances to create this software."
He adds, "The only regret I had was being trusted in the very beginning by a company who provided us with funds that were never used constructively since we never had a well written plan, after the incident we had agreed to only self fund ourselves, because with self funding one can operate as per his or her vision and that was what we desired. The company now has a number of 15 to 17 full time employees.
How the Service Works
IPF ways of operating is different from Biashara Plus, with IPF they get to provide services such as website design and development were it is designed to fit all devices, which can accommodate a browser, to produce consistent user experience while using the product. When it comes to mobile solutions, they provide a USSD application or mobile application as well as mobile payment integration with a high quality product that is focused on serving the end user. Lastly is website strategies and digital analytics provision through digital marketing. As a client all you need to do is address the challenge you are facing by getting in contact with them via their email info@ipfsoftwares.com or call +255 718 728 778.
To register after downloading the app one has to be a Forever living business owner, and provide an FBO identification, choose the country that you live in, thereafter you'll find a display of product price listings. The user can also subscribe to Biashara Plus packages to enjoy premium packages with a 20% to 40% discount of the products.
The Target Customers
Grayson says with IPF they are focused in impact oriented business, that brings development in the digital space. "Our target customer is any small, medium and large business who are focused on creating impact to the masses, we have different ways on how we reach our target customer but the most preferred is referral, our engineering team acts as our sales force bringing customers' satisfaction by delivering high quality products, these clients tend to refer our services to people they know of who need assistance when it comes to mobile applications or web designing and development."
The Covid-19 Impact
Grayson speaks about how the Covid-19 affected the company's operation, "Covid-19 came with a realization to a large number of people how important it was to understand and get into the digital space as well as the rise of the e-commerce businesses, looking in the space that we were in as Biashara Plus it was more of an added bonus , people used more of our products and we added delivery services where people were able to get their products wherever they are, the working environment at IPF Softwares took a shift when the working from home policy was enacted though later on we got used to it but it was quite the new change."
iPF Software is invested in understanding people's business and what they want, by doing so they not only get to listen but also challenge their clients' vision. Grayson adds, "At first the clients were not pleased with the approach but it is through challenging one another they got to widen their perspective, all in all at the end of the day what we delivered was with quality and satisfaction to our clients."
The Achievements so far
Grayson says, "The growth that transpired among us not just in understanding our business but also clearly seeing our vision and were we are heading is something I really cherish and appreciate."
He adds "Another achievement is our own in house solution Business Plus that has crossed about five countries in East Africa, with people using it daily and constantly it is truly satisfying seeing users of the product enjoying the services we provide."
Biashara Plus has over 10,000 downloads form android users to IOS. IPF Software has also partnered with a number of well known and thriving organizations in Tanzania such as Niajiri, SheCodes For Change, Unleashed Africa, Tanzania Bora Initiative.
With Biashara Plus they look forward in disrupting the Market space in Africa by getting into partnership and shipping their products to different African countries. When it comes to IPF Softwares they have attracted a number of investors but have accepted none since they believe in self investing in their own in house products.
When asked about the vision of IPF Softwares and Biashara Plus, Grayson had this to say, "The dream is to be one of the largest leading Software development house in Africa, we want to provide services and solutions across Africa and with Biashara Plus we look forward for that product to be used even in the US and European Countries because it is really that good."
Final Thoughts
Despite the presence of many programs created in the developed countries, we believe that African youth can as well play roles in designing, creating software's that can be used in providing digital solutions and bridge the gap in eco-tech industry.
For further details about the IPF Softwares visit Tech & Media Convergency (TMC)'s YouTube channel for a full video interview https://youtu.be/w8S64z_rC5w , like, share and subscribe for more groundbreaking stories. One can also access the online conversation about IPF Software across all Tech & Media Convergency (TMC) social media platforms using the hash tag #ImpactTechTZ
To read more about our reports featuring Startups in Tanzania https://bit.ly/ImpactTechTZ2021-Report