Promoting Impact Technology : Spotlight on Smart Darasa
SmartDarasa is a next-generation learning platform helping students understand the reality and practicality of things they learn in STEM subjects using the SmartDarasa app and website utilizing 2D, 3D & AR technology. With SmartDarasa, students can practically learn what they learn in class on STEM subjects, do conceptualized questions, and perform 2D & 3D simulations and AR learning as if things are in their environment when coupled with Smartcards Vol 01.
It was founded in 2019 by Elias Elisante and his three friends. SmartDarasa's vision is to become the number one go-to provider of immersive learning experiences using 3D interactive and AR technology in Africa, and its mission is to create the best online practical learning content that users can access, interact with and understand their theory knowledge better close to a real practical experience by at least 85% anywhere. Tech & Media Convergency (TMC) sat with Kusiluka Aginiwe, SmartDarasa's Chief Operating Officer, who shared detailed information on how SmartDarasa is transforming science subjects' learning systems.
The inspiration behind
According to Kusiluka, Elias started the project in 2017 with three friends who left the startup in 2020 for various reasons. In 2020, he teamed up with Ms. Happiness Mwandu, who assisted in integrating the existing infrastructure and propelling the product from the prototype to the beta stage. "I met Elias
At a University of Dar es Salaam Innovation and Entrepreneurship Centre incubator session. I joined and collaborated with him on developing the business development strategy, which was critical to launching and commercializing SmartDarasa's products in July 2021," said Kusiluka. He further explains that since the launch of its products, SmartDarasa has experienced an inflow and outflow of workers, which has yet to impact its operations on a large scale. Kusiluka shares that they are currently developing a final and complete technological system covering all their product catalogs. "The development and release of the platform will be in two phases; in phase one, we will release a catalog covering form one and two subjects, and in phase two, it will cover form three and four." He elaborated.
Addressing the Gap
Kusiluka Aginiwe's explanation highlights the core challenge that the education sector is facing, which is the gap between theoretical knowledge and practical knowledge. This gap is mainly due to the lack of well-equipped laboratories for students to conduct empirical studies. He further points out that the increasing demand for theoretical online learning platforms has made it necessary to provide online practical and simulation classes to address this gap.
In response to this challenge, SmartDarasa has taken on the mission of creating an immersive learning experience that helps students gain practical knowledge in STEM subjects. The company's approach is to design interactive books that allow students to have real experiences with STEM subjects in practical sessions. This approach helps students to expand their knowledge and understanding of the subject matter.
By providing such an innovative learning experience, SmartDarasa is adding value to the education sector by closing the gap between theoretical and practical knowledge. This approach not only benefits students by providing them with real-world skills, but it also benefits the larger community by producing a more skilled and knowledgeable workforce.
Bootstrapping as the source of initial funding
Kusiluka shared that SmartDarasa was set up from the founders' pockets before receiving grants from the Tanzania Commission for Science and Technology (COSTECH) which was critical from the ideation process, beta program design, and up to now when they are finalizing the complete product.
Kusiluka emphasizes the challenges that startups face when introducing new and innovative ideas in the tech sector. Investors are often hesitant to invest in untested ideas, which makes it challenging for startups like SmartDarasa to secure funding. This reluctance is even more pronounced in the education technology sector, which is still relatively new and unexplored. In contrast, other sectors like fintech, agritech, and healthtech have seen a surge in investments because they have proven track records and are considered safer bets. Kusiluka highlights the need for more support from the government and other stakeholders in the tech sector to help startups like SmartDarasa overcome these challenges and secure the funding they need to bring their ideas to fruition.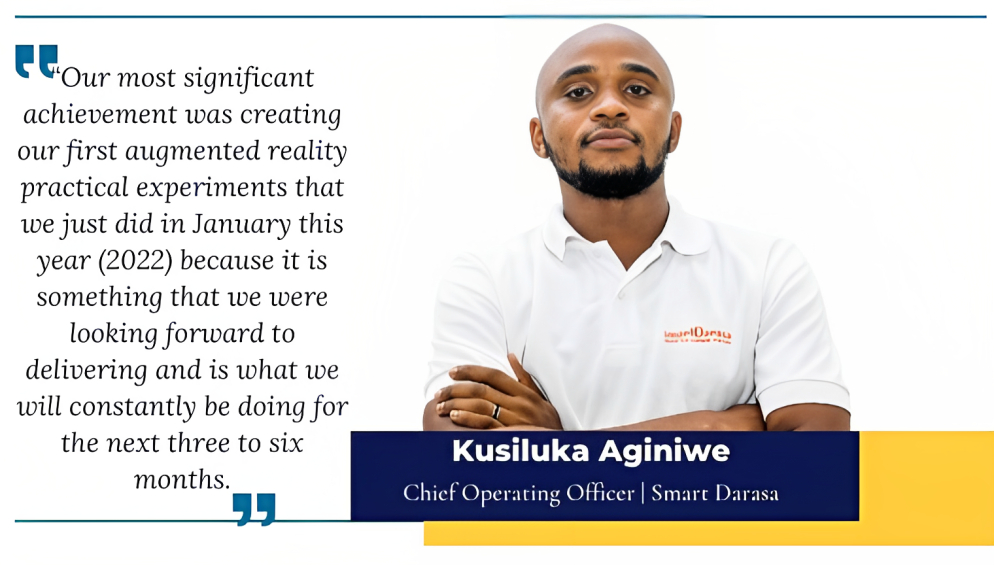 The business Process
Kusiluka explained that their product is portable, affordable, and easy to adopt, making their target users students and teachers from primary school to university, teachers, and tutors. He further explains that due to the categories of its users, their target customers include parents, teachers and tutors, school owners, and the government for higher scaling. He added that to use SmartDarasa; a user must log in through their website at https://smartdarasa.com, where they can access the released items. "Despite the limited content in our platform, we already have much content that we keep producing daily but is yet to be published on the site since we are still refining the system." Explained Kusiluka. "With the available beta product, we usually reach our customers through exhibitions and partners who facilitate different activities involving students. We also interact with them through our social media platforms, explained Kusiluka. The company not only makes money from the use of its app but also through the selling of its books. The startup plans to add a subscription option eventually to the app.
Competitive Advantage
"From our January 2022 competitor sweep procedure, we identified several ed-tech companies in Tanzania doing something similar aimed at transforming the education sector, including Shule Direct, Silabu, THL, and Elimutube, to name a few," Kusiluka explained. He goes on to say that, despite their efforts to transform the industry, neither uses 2D, 3D, or AR technology. "However, we once came across some augmented reality experiences done by Shule Direct in one of the exhibitions that we attended, so that should be considered a future competition in this field. But for now, none that we are aware of currently provides the same services and products that we do." He added.
Experience navigating the innovation ecosystem
Kusiluka expressed that despite facing operational challenges, their experience navigating the innovation ecosystem has been great. They were able to receive support from mentors who helped them stay on track. In terms of execution and strategies, the startup received guidance from mentors, advisors, and supporters. They also received training, capacity building, and grants from organizations like COSTECH. Kusiluka also mentioned their positive experience with product designers who helped in designing the products they use. Having a strong support system of mentors, advisors, supporters, and designers has been crucial in helping SmartDarasa overcome challenges and move forward towards achieving their vision and mission.
Challenges and Achievements
According to Kusiluka, they have faced two significant challenges: financial and human capital. The most difficult challenge has been assembling a skilled team; he explained that because the nature of their activities and the type of products they develop require a high level of technicality, they need assistance finding the right fit, forcing them to outsource across borders. He said that while they can outsource skilled technical workers, financial constraints prevent them from meeting their goals. "At this point, bootstrapping is no longer an option, but grants, which typically come with a limited scope of use, are also no longer meeting the needs, forcing us to seek out more partners and be able to tackle those challenges" Elaborated Kusiluka. "Our most significant achievement was creating our first augmented reality practical experiments that we just did in January this year (2022) because it is something that we were looking forward to delivering and is what we will constantly be doing for the next three to six months. On top of that, 2020 was an excellent year for SmartDarasa as we reached the top ten in more than ten (10) startup competitions conducted in Tanzania and outside the country." Added Kusiluka.
What growth looks like
SmartDarasa, according to Kusiluka, aims to secure 260,000 USD in financial capital to maximize its operations. "The funds raised will be critical to running our operations for the next 18 months; they will cover all operating expenses, including content production, equipment upgrades, and retaining and attracting new talent." Kusiluka elucidated. The technological space is changing very fast every day, so you find new technologies every day. With that in mind, we intend to be present in and deliver our products and services to more than ten African countries by 2029, and we will be able to scale up our operations with that amount of seed funding.
Final thoughts and advice
Startups challenge the usual way of thinking, the way people feel and are accustomed to the various events and solutions in their environments and society. Kusiluka shared that unlike developed countries, which have more innovative solutions than problems, Africa is now a hunting ground for investments and new solutions. He stated that there are many untapped potentials in various sectors, such as education, health, and renewable energy, to name a few.
"While there are many opportunities available, only a few who are determined enough and have a sense of purpose to unlock the potentials hidden within these opportunities can stand out". According to Kusiluka, youth must begin now. "You might not have the clear picture, and we neither did, but as you go on and believe that what you are doing will change lives and contribute to building a better community, you start to see a clear bigger picture sometimes way beyond what you imagined at the start. Of course, there will be sorrows, disappointments, and challenges, but none of these will deter a determined individual driven with a purpose to their envisioned solution," added Kusiluka.
To read more about our reports featuring Startups in Tanzania https://bit.ly/ImpactTechTZ2021-Report and http://bit.ly/TECHTZ2022