Promoting Impact Technology | Spotlight on TenTen Explore
Are you a travel enthusiast, looking for a digital market place with places you have never heard before? Search no more, TenTen Explore is Tanzanian's first travel digital market place that focuses on the domestic tourism scene and telling the African history through different heritage sites found in Tanzania. TenTen revolutionizes how travelers find and book life-enriching trips through flexible payment plans, to help them afford vacations they never thought they could.
TenTen explore was established in February of 2021 and they launched their application in June. Ms. Prisca Magori who is the CEO of TenTen explore sat down with Tech & Media Convergency (TMC) and took us through their journey, challenges encountered, accomplishments and how their services work. TenTen explore tagline is Create Memories because they believe in ensuring their customers get to explore lifetime experiences that are unforgettable. They are located at SSTL Group LTD in, Kinondoni Dar es Salaam.
The Attended gap that Inspired TenTen Explore
Prisca says, "There was no a one stop digital market place that carters for the needs of local tourists rather, they spoke more to the western culture especially when it came to pricing and aimed at the International market"
She continues "For instance, I as Prisca I am curious about Mafia, I know it is an island found in Tanzania but I wouldn't know where to start but through our platform you can search for any destination and it would provide a detailed information about the place from resorts found there, places to explore, the weather."
Apart from her love for travelling, this challenge inspired Prisca to establish TenTen Explore "I had no knowledge of the tech ecosystem but I invested my time to learn and understand it because I am on a mission to revolutionize Tanzania's travel and Tourism Industry using digital applications." She adds
With TenTen explore has made it easier for domestic Tourists in Tanzania to be well informed of the places they want to visit and travel affordably while experiencing quality and a life-enriching experience.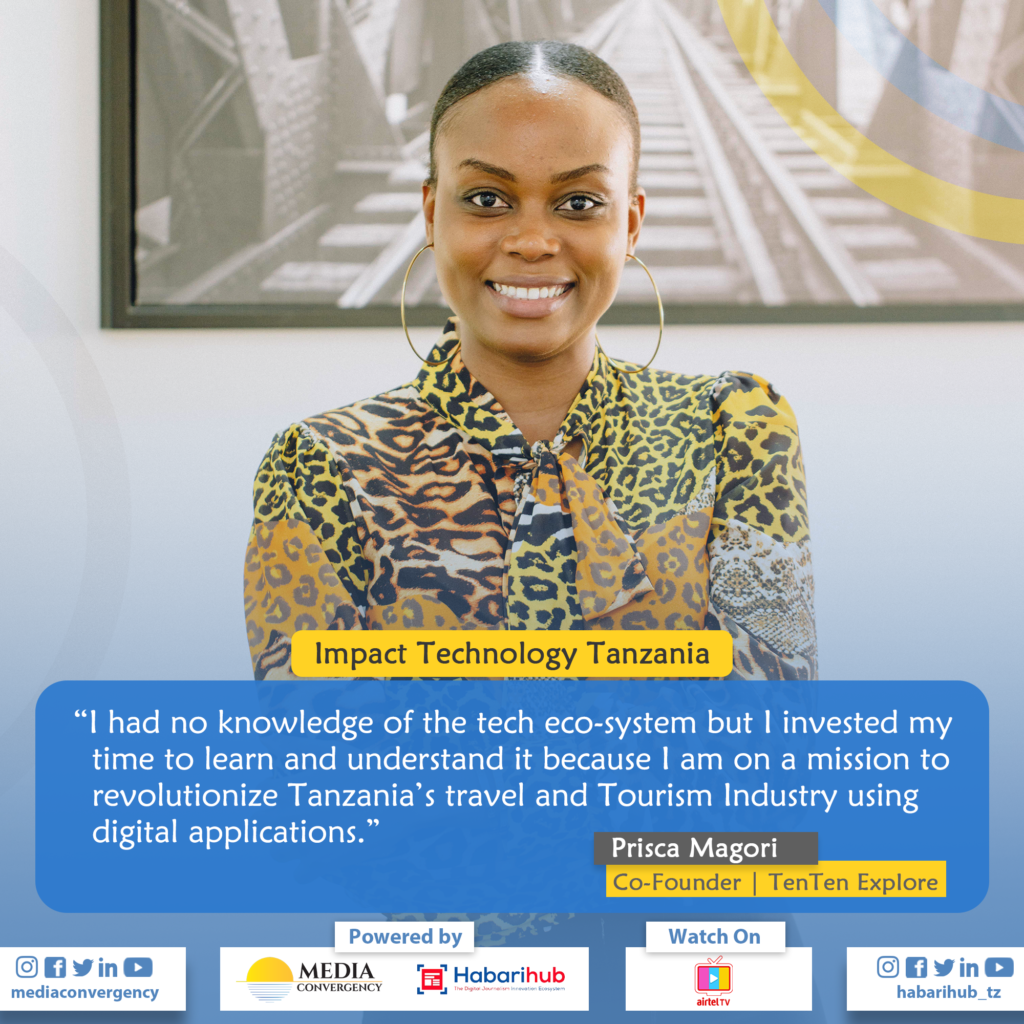 How TENTEN Explore Works
"Whether one is a user of android or iOS they can download the app you can search your destination or find the displayed places to travel, then book the destination of your choice and select a payment plan that is convenient to you whether it's a weekly or monthly payment so once one selects, they can pay booking fee which is 5% of the total price."
A customer can continue to check out progress throughout their payment plan journey, then two days before the journey TenTen service provider who is the tour operator will contact the customer and provide them with a guideline of all that is in store for the trip.
Paying in installment has its challenges, Prisca tells us, others pay for their bookings simply because they have a refund policy and to see what is in store.
Target Customers and Market Reach
"Our to go to target market are the Millennials, because we believe that they are the tech- savvy they are easy to adopt to technology and easy to navigate. this type of our targeted customers spends a lot of time on online so our platform has invested heavily on digital marketing using the Social Engine Optimization, email marketing, social platforms such as Instagram ads, to reach our targeted customers."
TenTen explore also uses do door to door marketing to universities, corporate companies for they want to interact with them because they believe they are the end users of their product and want to listen as their potential customers share their experience of how vast they can create the product that carters for their needs.
The Eco-System Positioning
Prisca recognizes their other similar initiatives in the Ecosystem and is happy that TenTen explore gets to be part of bringing solution in the Tanzania tourism Industry.
"Being able to leverage on technology what differentiates us from the rest is that we offer customers a service to customize their package according to their needs or wants, we mainly offer these services to Tanzanians in the country additionally we offer you an opportunity to pay at your convenience to pay in installments so as you cannot have an excuse of not having an experience for the fact that it is expensive, so we make it affordable for you." Says Prisca
The Accomplishments
The fact that they are new in the tech ecosystem, have developed an application in June and to date they have almost 2000 downloads, take into account they have not highly invested in marketing, it is an achievement worth celebrating. "Having the feel of strangers booking your services, appreciating your services it is such an achievement." Says Prisca
What to Improve
"Looking back at it I wish I could invest highly in research you know when we speak of tech Startups it is not an overnight thing, there is a time you find yourself in a position where by you would never have thought of being in such a short time so in anything I would say it is a learning process you look at it as part of strength to move forward."
Prisca tells us as a Startup they would want to have resources that would help in enhancing their services, having Tech related forum that would help aspiring innovators to be exposed and knowledgeable about the Tech Eco-System because it is important and it helps them progress daily, also being able to secure funds in the long run that will enable them to run their operations smoothly is something they look forward to.
The Covid-19 Impact
Prisca says, "It was a blessing in disguise, from COVID it is where we wanted to get involved fully in developing and establishing the application, we had an opportunity to interact with service providers who used to carter for foreign tourists so it was an opportunity for us to shift their mindset why not focus on local tourist, what if we can also diversify offer the experience that does not focus on the Big 5 alone make our local tourists pay in installment, fortunately it turned out well."
The Next Step
 "I believe in change if it is being told that it is not our culture to travel, we as millennials we can eradicate that, we can explore nature, appreciate different culture, value our own tourism, it is a chance for us to learn about our history, what I see for TenTen is that it comes in handy as a place to explore about culture and learn the History of different places around the world.
A Word of Advice
From the phrase, 'The future is female' well guess what the future is now, just get on it, technology has no gender, it does not require you to be a professional tech person just get to learn the basic skills and get on, lastly I would like to thank the whole team of Tech & Media Convergency (TMC) for showcasing Startups such as these."
For further details about TenTen Explore visit Tech & Media Convergency (TMC) Youtube channel through this link. Like, share and subscribe for more insightful stories, one can also access the online conversation about TenTen Explore across all social media platforms using the hashtag #ImpactTechTZ
To read more about our reports featuring Startups in Tanzania https://bit.ly/ImpactTechTZ2021-Report