Promoting Impact Technology Tanzania | Spotlight on Sheria Kiganjani
Getting access to information about the laws of a country such as Tanzania, what cases to report, who to report to and understanding what laws binds you to what punishment has been a challenge to many considering that 90% of our laws are in English language. But what if I tell you that there is a digital platform called "SheriaKiganjani" that provides easily, affordable and accessible legal services while using Swahili language as means of communication on all legal information one needs.
Sheria Kiganjani was established in 2018 with six Co-founders that include lawyers and IT professionals, their headquarters are located at Tanzanite Park building via Bagamoyo road in Dar es Salaam. One of the Co-founders had a chance to converse with Tech & Media Convergency (TMC) a multidisciplinary creative digital-centered approach company and share in depth what Sheria Kiganjani does.
The Inspiration and the Purpose
The co-founder Ms Neema Magimba shares her story. She says, "Looking back at a time where I had just graduated from Mzumbe University and got an opportunity to intern for an NGO that provided legal services in the lake zone area, I recall a young girl named Saida who was sixteen years of age, already a mother of two children and had been forced to an early marriage.At that time, she had no idea where to get an actual legal help, it is scenarios like this that inspires me for I want to see the citizens of my country get access to justice and an aid when it comes to legal services."
Sheria Kiganjani aims at making sure that no Tanzanian citizen is deprived of his or her rights because of their lack of knowledge in the laws that govern them. Secondly is to motivate Tanzanians in getting the right information and education about laws through digital applications. They believe with Sheria Kiganjani women, children and people living with disabilities will be able to access equal rights and provided legal services.What Sheria Kiganjani is trying to solve is the lack of access to justice due to financial constrains and geographical constrains, since some people fail to afford lawyers and other people living in rural areas may have little or no access to legal services.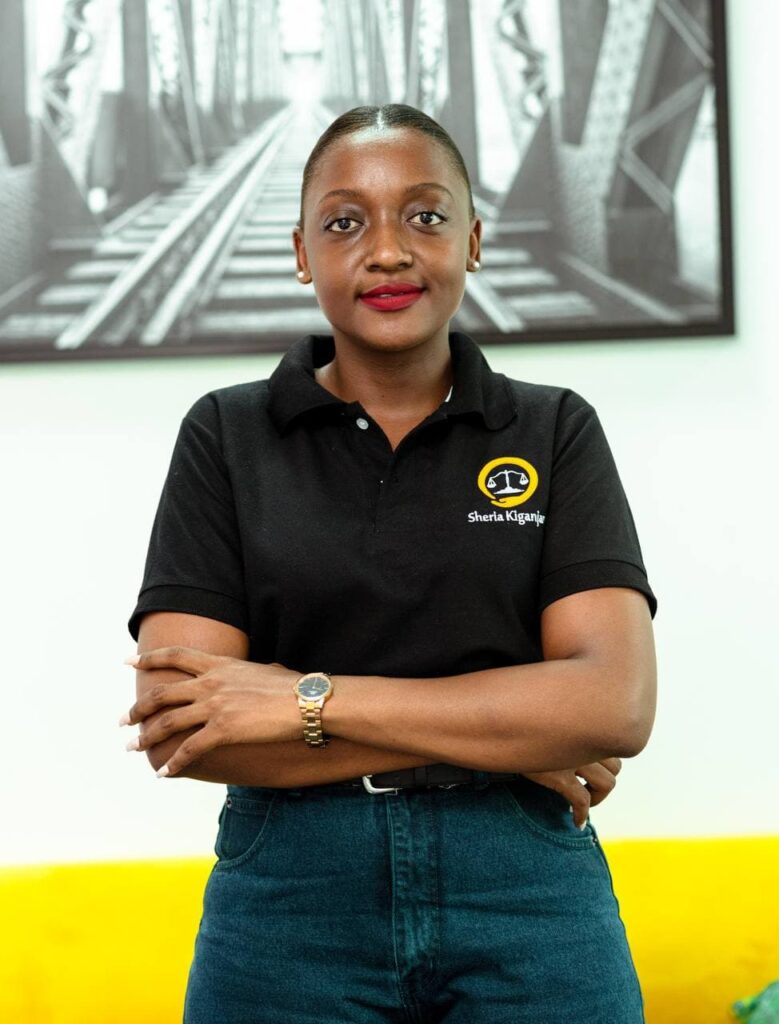 How Sheria Kiganjani platform works
As technology is taking space in the world right now so are different organizations and business when it comes to the way they operate. Sheria Kiganjani has made sure that their services are benefiting both the online and offline market.The services of Sheria Kiganjani work on a subscription basis, Neema says, "For smart phone user if one wants to speak to a lawyer then he or she would go to our application download it, then register, one will then click Ongea nasi or Chati nasi and then choose a subscription mode whether it is a daily subscription, weekly or a monthly subscription afterwards one will be connected directly to a lawyer."
For a user who wants to download a sample of a memorandum or affidavit or a contract one ought to go to the platform, click the type of document one wants, pay for it then download it. One using a featured phone who wants to be connected directly to a lawyer, the process is as follows, get in contact with them through +255 621 900 555, then one will be connected with their legal assistant and that person will connect the user to a specific lawyer based on her case.
Who can benefit from Sheria Kiganjani service?
Sheria Kiganjani targets middle- and low-income earners simply because they believe these are the group of people who cannot access the services because they cannot afford them or they cannot easily reach the people who are providing these services. Sheria Kiganjani reaches it targeted customers through the following channels, one is community radio because it is widely listened to, second is through their social media and third it is through goggle with the use of Search Engine Optimization (SEO)
The users of Sheria Kiganjani are able to talk and chat with lawyers 24/7, the platform has two different segments one is called Fahamu Sheria that aims at providing informative information about different positions of the law, the second segment is called Uliza Wakili this allows the user to ask any legal questions or any legal inquiry that one has with that is free of charge, a user can download different documents that are used in courts and since they are in English, Sheria Kiganjani provides a segment with over 5000 Swahili questions and answers that simplifies the provision of different laws in different sub-topics.
Their success so far
With more than two years in operation Sheria Kiganjani has succeeded in securing 6 partners, 5 projects, more than 25000 downloads on the mobile application with 18300 active users, on the website they have had 95100 visits with 56400 unique visits, when it comes to legal enquirers they have had a total number of 10100 users, 2120 documents downloaded, resolved cases are 1600 and advocates connected are 357.
In a Competition that segments on creativity prepared by Innovation Express Dar, Sheria Kiganjani came up as a winner and was awarded with a certificate in the year 2018, they won another award in the year 2018 that was prepared by Selcom, Hub255 and Raha Liquid telecom as the emerging 1st runner up at the Selcom Masters QR Hackathon, in the year 2019 they won the Seed stars winner award in Dar es salaam among 60 teams in innovation, the award gave them an opportunity to represent Tanzania in a bigger continental competition called Seed stars African Regional Summit that was held in South Africa. Sheria Kiganjani won the African legal awards 2019 under the category of Best use of Technology, the event was held in South Africa and was attended by 1600 advocates all over Africa. They received an honorary certificate in an annual meeting from Tanganyika law society in the year 2019 that was held in Arusha.
The Sheria Kiganjani team also had the chance to attend different conferences internationally. One being East Africa's start up conference in Kigali, Rwanda in the year 2019, another being the 141 International Trademark Association an annual meeting that was held in Boston, Massachusetts, USA in the year 2019, another one was the 2019 Afro Asia Fin-tech Festival held in Nairobi, Kenya and the other one was the 2020 Innovative Justice Forum that was held at the Peace Palace in the Hague, Netherlands. During the 10 days of Innovative Justice Forum a competition was held that consisted of 14 legal innovation from different parts of the world, Sheria Kiganjani came third in place and were awarded.
Next step in their Innovation
In five years to come Sheria Kiganjani plans to scale up, they do not only want to provide legal services or just bridge the justice gap but also grow internationally, they are looking forward to reach more than the 25000 people they are servicing right now.
Lastly Neema says, "I know that innovation is still new in Tanzania and it is not done by a lot of people yet I believe there is still a need of recognizing more platforms like these so as to promote the technology industry in Tanzania."
Sheria Kiganjani sets precedence of future legal tech in Tanzania. The judiciary is already embracing technology and attending to some of the cases online. While there might be a lot of work to be done, the prospective opportunities and technological application in the Legal world is inevitable.
You will find further details of Sheria Kiganjani as they share their innovative story through a video interview on Tech & Media Convergency (TMC) YouTube channel https://youtu.be/IZ4mMyzs_i0 as well as access to the online conversation on them across all Tech & Media Convergency (TMC) social media platforms using the hash tag of
To read more about our reports featuring Startups in Tanzania https://bit.ly/ImpactTechTZ2021-Report