LAUNCH: The Digital NGO Accelerator program for 35 NGOs in Tanzania
Tech & Media Convergency (TMC) in partnership with Meta (Facebook) has announced the support for non-profits building on the pilot work which started in H2 2021 at a launch on the 28th of April 2022 at the Serena Dar es Salaam Hotel. Meta is committed to supporting NGOs and other organizations that are using our platforms for good and our goal is to continue to work very closely with the social impact and non-profit sector across Africa to help them learn to scale the impact of their work via the use of our platforms.
Media Convergence recognizes that a strong and cohesive digital ecosystem enables an organization to focus on creating business value by eliminating frustration caused by outdated practices or technology. Connected digital ecosystems are now essential for building connections, driving change, and improving business outcomes. This sentiment was echoed at the launch of the Digital NGO program, which was attended by special guests Ms. Vickness Mayao, the Chief Registrar of NGOs from the Ministry of Health, Community Development, Gender, Elderly and Children, and Mr. Mulembwa Munaku, the Director of ICT representing the Ministry of Information, Communication, and Information Technology.
Among other objectives of the launch was to demonstrate that Meta is committed to Tanzania's growth, by implementing the Meta Nonprofits Program to support Nonprofits and the social impact sector in Tanzania. This was very well articulated by Meta's representative, Mr. Desmond Mushi who was among the hosts of the launch. Mr. Kiiya Joel gave great insights into what the program meant to NGOs and portrayed how technology is part and parcel of the future in this Digital economy.
So far this initiative has had a positive response from the government because of its serious approach to Digitizing Tanzania through policies and mega projects done in collaboration with the World Bank (WB) and the European Union (EU) since the launch of the report "An overview of the Digital Ecosystem, Emerging and Applied Technologies of NGOs in Tanzania" which was launched by then Minister of ICT, Dr. Faustine Ndugulile who too had a call to action for NGOs.
At the launch, the Director of ICT emphasized that the government has been working hard to create a favorable environment for technology adoption and digital transformation by improving the National ICT broadband backbone resulting in an increase in digital connectivity. He shared that the numbers show the progress that has been made: in 2010 there were 5 million internet users, now there are 32.7 million and in 2010 there were 21.1 million mobile subscribers, now there are 56 million. He further added that acknowledging the program, stating that "We recommend the use of the term Digital NGO since it sends a message of where we want to go as a country, we intend for a strategic way of using ICT in for operational processes of business entities and especially NGOs".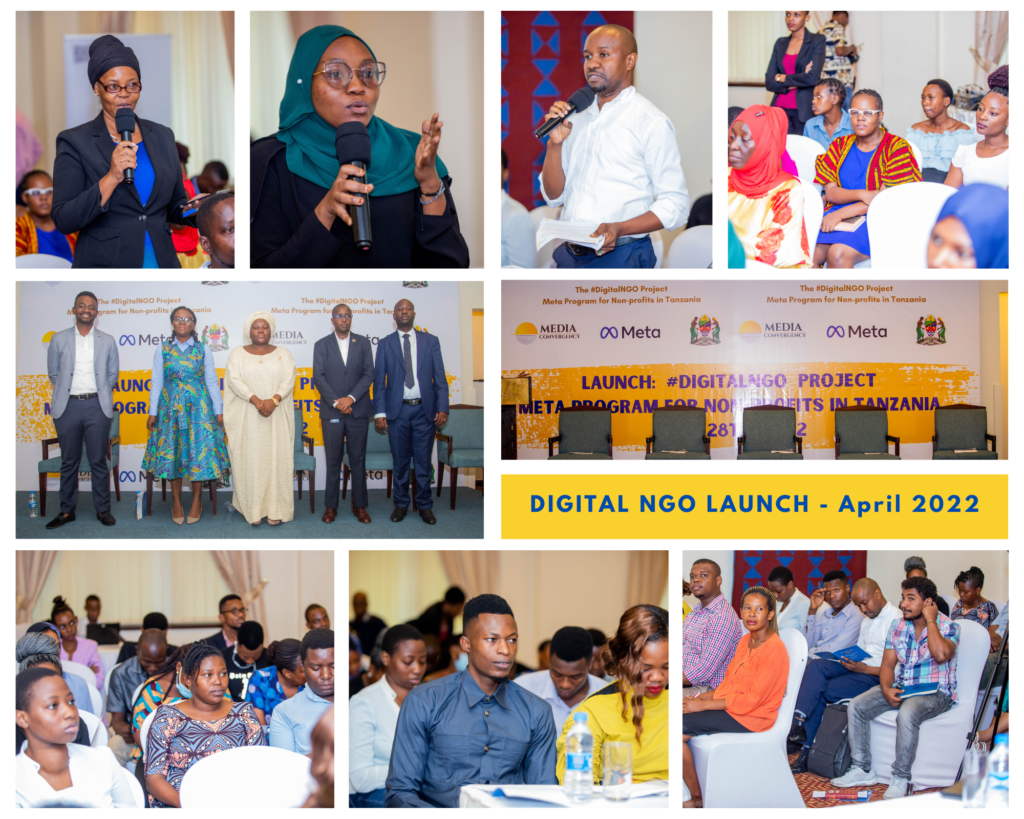 Also, the Registrar gave a compelling argument on what the program means for the NGO sector and Tanzania in general. The following were the highlights as extracted from the Registrar's keynote speech
"The government of Tanzania never works in isolation to this, we have moved from paperwork to paperless through enhanced information systems, other efforts including having office systems and now our new initiative of the postal codes which all of these applies to ICT. The work of the government is to create an enabling environment for every citizen and organization to operate smoothly to ensure this is happening we all work at a convergence and this is clearly seen in the work of Tech & Media Convergency (TMC) where they indulge in enabling the space.

To be precise this space is still a vacuum and we are very happy to see the youth led NGO committed in to occupying the space and we are sure you are going to encourage others to spread the technology and use enhanced technology in reaching more people and creating awareness. As from my office we have made sure that it is now easy to register an NGO using our nis.jamii.go.tz  where you can simply send your application through you don't need to travel to apply, send, report and adhere to some compliance procedures and we keep on working to improve.

We have over 12000 registered NGO in the country but however through the use of technology we were able to verify them and we cleaned our data to reach around 7532 as we speak. It is important to have an organizational mindset that plans ahead and consider technology in all necessary ways, we have a high number of NGOs but we also need a good number that is based in ICT.

I call upon a need to have much more NGO in the space to work around the initiatives that promotes, advocates and researches information which can help to build the bedrock of technology in an attempt to raise issues such as internet rights, digital divides, online based violent in cyber space related issues.

The initiatives such as the DigitalNGO project brought to you by Tech & Media Convergency (TMC) in collaboration with meta it fuels the need of the agencies to adapt. We are approaching our national census and NGO are expected to create awareness through citizen engagement and this can easily be done through different means one most powerful means being reaching people through technology.

I call for collaboration between the NGO, government, public and private sectors so as to compliment this effort in a manner that the whole nation become digitally transformed as well as call upon the NGO community to embrace such support provided by Tech & Media Convergency (TMC) and collaborate in the revolution towards digitalization."
The overall objective of the Digital NGO project is to advocate for conversations and action for absolute Digitization, adjoining digitally enabled technologies, and Digital Transformation for the NGO community in Tanzania through a holistic approach so as to speed up the digital transformation journey. Ms Abinallah shared that the focus of the program will be, 
Applying a designed six-month Incubation program for 35 NGOs focusing on,
o   Applied Digital Communication Strategy

o   An audit of Digital Information communication flow and providing comprehensive reports to be presented to the management of each institutions

o   Introduction and trainings to Meta tools for Integrating Technology/Digital Solutions for projects
Meta training programs for non-profits (Digital capacity building) for 1,000 individuals in the next twelve months.

Collaborative engagements with strategic key stakeholders towards the realization of the agenda.

Share resources on the state of the digital ecosystem for NGOs.
While implementing the program Tech & Media Convergency (TMC) intends to closely monitor and record the learnings so as to build on and improve for future implementations of similar or same programs.
—-
For a recap of the event from the Chanzo see this link HERE.
For the full live-stream video of the launch see this link HERE.
For more information about the Digital NGO Program see this link HERE.