Tech & Media Convergency (TMC) and Meta to provide Digital Skills Training to 1000 Netizens in Tanzania
Tech & Media Convergency (TMC) in partnership and supported by Meta aims to conduct training to a minimum of 200 individuals each month for the rest of the year 2022. This is part of Meta program for non profit and the social impact sector to enhance a better use of platforms. The project is designed to run for six-month capacitating 1,000 individuals from the month of July to November 2022.
With the acknowledgement that there are huge opportunities and challenges of digitization, the majority of individuals using technology through digital platforms needs up-skilling support when it comes to effective use and benefits of using digital tools and platforms. This is one of the parts of the Digital NGO Project as shown below in the diagram.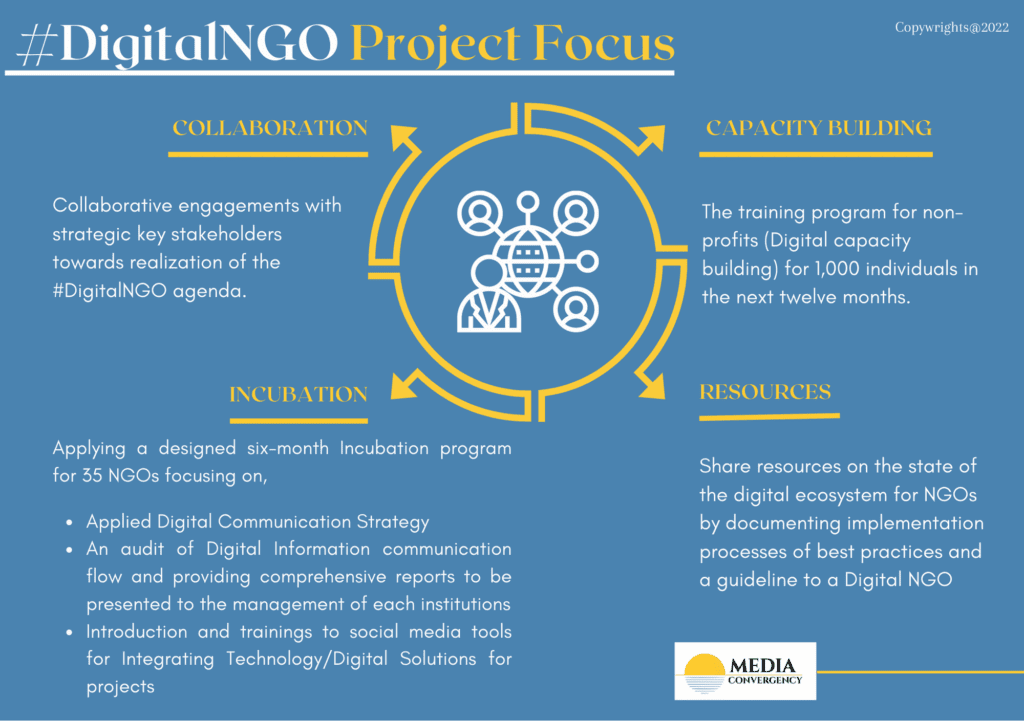 The training on capacity building to 1000 individuals aims at;
To first showcase the value of digital platforms for social impact and as a force for good.
To explore challenges and opportunities which come with digital adaptation for individuals as well as provide the best way forward in addressing these challenges.
To share experiences with being in the digital space and the opportunities encountered with being online.
To influence mindset and foster conversations and action on absolute digitization for
Approach used
The selection process is through a call for application to the first batch of 1000 individuals. The first batch is a call for 200 individuals and the application process runs for three weeks, the training will take place from the month of July to November 2022. It is a 2-day webinar training conducted for four hours with an aim to reach many people at per for Tanzania mainland and Zanzibar. The training will comprise of certified and vetted trainers by Meta.
Apart from the Digital Skills training shared through this article, Tech & Media Convergency (TMC) hopes to foster conversations and equip individuals to be digitally skilled so as to keep pace with the changing and digitizing world. By doing so, we hope more initiatives will developed to engage youth and empowered young people with the skills and opportunities to advance their vision of a connected future for social impact.
More information about the Digital NGO project as listed below:-